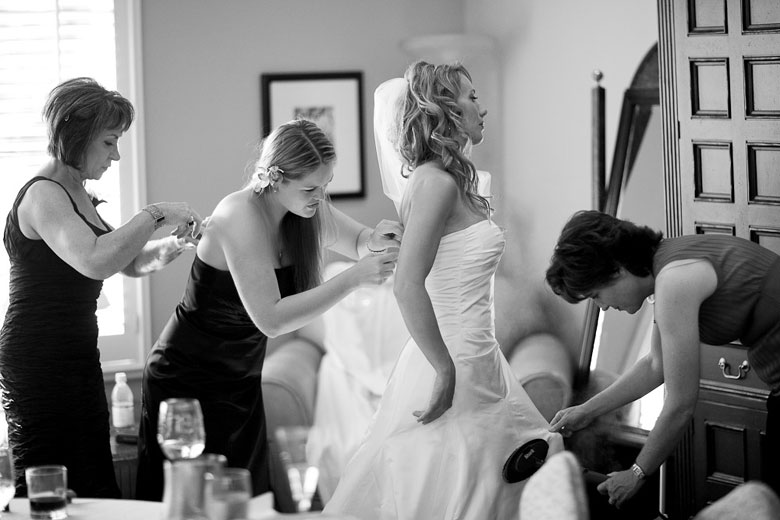 As the bridesmaid, you will have a full and varied itinerary and accompanying responsibilities designed to assist the bride, groom and their families in making this day their most memorable. Apart from being close friend and intimate sounding board, you will need to execute specific tasks before and during the day of the wedding. The primary responsibility of the bridesmaid is to support the bride in the process leading up to the wedding, which may involve participating in dress fittings, wedding cake and menu tastings, wedding venue decisions, and wedding rehearsals. The bride will likely require that you also run some errands, including collecting flowers from the florist, or even actively making table decorations, or packaging guest gifts.
The bridesmaids are also responsible for the organisation and hosting of the bridal shower of kitchen tea. This involves being aware of the friends and family that would need to be invited and ensuring that all invitations are sent out correctly and on time. Coordination and purchase of food and décor at the shower will also be your duty as bridesmaid. Another important role would be to be able to advise guests of gifts that the bride would prefer for this occasion.
At the wedding, bridesmaids will walk down the aisle (perhaps guiding the younger flowergirls) and stand close to the bride during the vows. The onus is on you, the bridesmaid, to be available to take her bouquet during the exchanging of the rings, and to ensure that her veil is straight at all times, perhaps even holding it while she walks down the aisle to prevent her from tripping.
You will also be included in many of the wedding photographs. This can be quite exhausting, but keep the smile genuine, and try to assist with getting flowergirls to cooperate with the wedding photographer.
Weddings can be costly and, if you are able to assist financially, this is sure to be appreciated. Contributing towards your outfit, jewellery and shoes and paying for your own transport when running errands is a heartfelt way of expressing your support. You are also responsible for the costs of the wedding shower for the bride.
Perhaps the most important role you undertake as a bridesmaid is that of support and cooperation. You may not agree with the bride's choice of wedding cake, and you may not feel entirely comfortable in the dress she has chosen for you. While your opinion is a valuable contribution, you may be obligated to submit to some decisions you would not have made. This is the most important event of her life, and she has chosen you to share it with her. Accept your role with grace and enjoy the pre-wedding excitement. In this way, you guarantee the success of her day and the fondest memories.
Photo Credit: www.redboxweddings.com