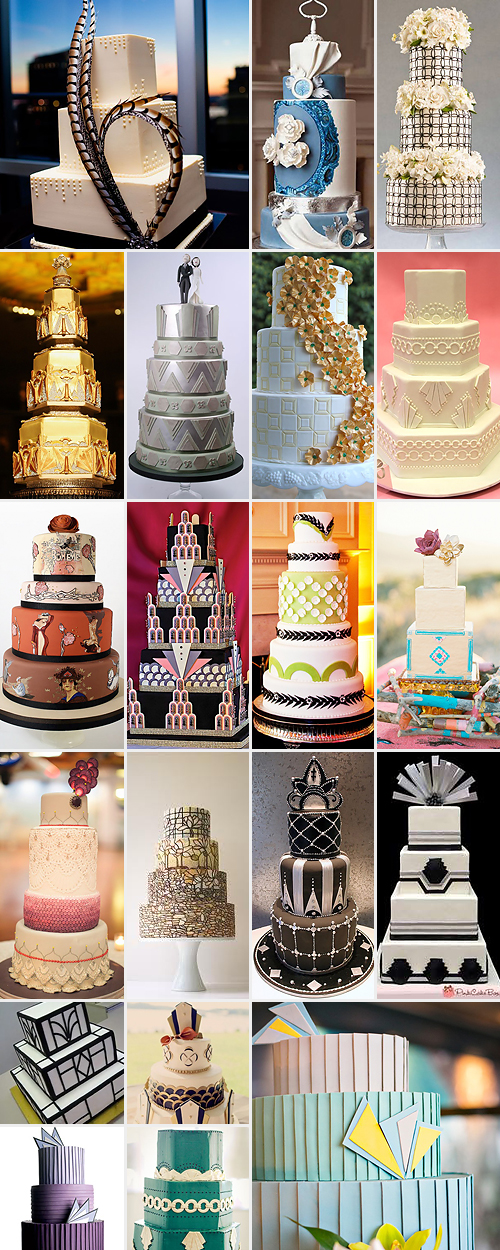 Our sincere apologies go out to all the fantastic South African cake designers out there, because this post is sure to inspire quite a few challenging cake and frosting ideas! Art deco cakes are inspired by the 1920s art deco era, mirroring the art, architecture and style by which this decade is characterised. Known for its opulent and elaborate design, these breathtaking cakes often look nothing like the cakes we've come to know and one's heart almost crumbles at the thought of wrecking it with the cake knife.
It's important to note that the true beauty of these decadent creations don't lie in the choice of colour as much as in the physical construction of the cake.  Art deco is about creating a carefully constructed piece that takes your breath away without giving you a headache
Here are a few tips and tricks for choosing your perfect art deco cake design:
Look at art deco fabric patterns and unique textile designs – not just the design itself but also the texture of the fabric.
The trick is to be bold! Don't hold back – give free reigns to your imagination but also do your research on what exactly constitutes art deco.
Draw inspiration from art deco couture, especially the elaborate and opulent hat designs that are synonymous with this era.
Keep it simple. Art deco is all about creating a striking focal piece that catches your eye from across the room.
Continuing from the previous point, choose your colours carefully. Stick to stylish and sophisticated colours that blend in with your wedding theme, and consider unusual icing colours like metallics and black.
Page through old architecture magazines and draw inspiration from the sharp angles, crisp edges and attention to detail.
Be inspired by origami! The precise folds, the smooth lines and the modern character. If you can make it out of paper, there's no reason why it can't be made with fondant.
In the end these sugary sweet creations may well be complicated, but there's no denying the magnificent WOWness factor of an art deco wedding cake – it's not just a cake, it's a focal piece.
For more ideas, original photos and their credits, check out the Art Deco Pinterest Board.