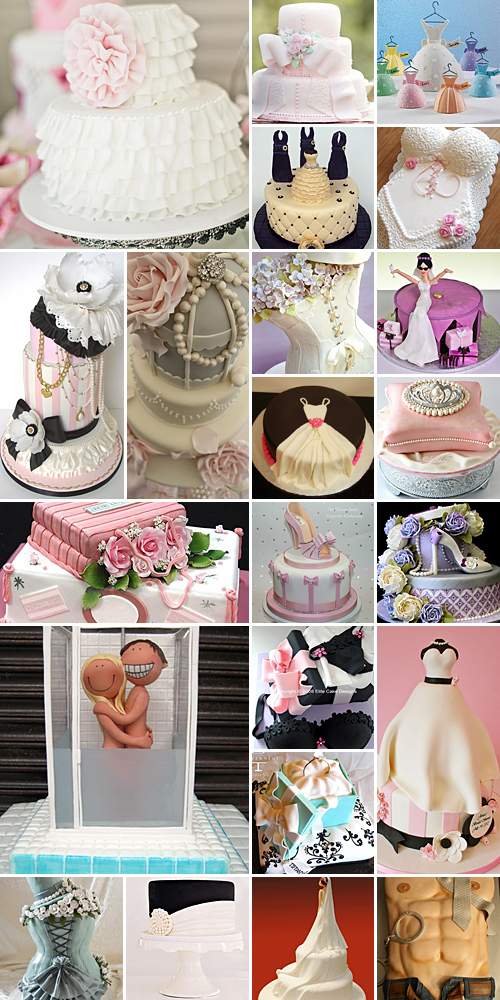 Brides, this one's not for you, so send this link to your maid of honour 'cause she's going to want to see this!
The bridal shower cake isn't exactly an age-old tradition, but who can resist the opportunity to serve up cake and a laugh on a single plate? Unlike the wedding cake, this is not the place to get serious – give free reign to your imagination and be a little naughty, if you feel so inclined.
Before settling on the design for the cake however, it's important to consider the personality of the bride and the average profile of the guests. For instance, if the bride is somewhat timid and shy, a cake shaped like male genitalia might not be well received. Furthermore, if the bride's grandmother and prim and proper aunts will be attending the shower, it's best to keep it simple and in good taste.
If you're going the more sophisticated route, that still doesn't mean you're allowed to be boring. Some ideas include a mini cake replica of the bride-to-be's wedding dress, a typical girly-girl princess or Cinderella cake or a frosting creation inspired by one of the bride's hobbies, personality traits or interests. Perhaps she's had to tone down her ideal wedding cake to suit the taste of her soon-to-be hubby, in which case you can give her the full girly version.
On the other hand, if naughty is what you're aiming for, bring out the frosting whips and cuffs or give the guests a taste of a hunky six pack. A cute lingerie inspired cake is also guaranteed to evoke a giggle or six, and is ideal for a mixed crowd. Go crazy with feathers, twirls and girly embellishments to truly make it a memorable creation.
At the end of the day, it's all about giving your bestie something to remember this special day by, without embarrassing her in front of family and friends. Ensure that the cake has a section that can easily be kept aside for the bride to take home after the shower, whether it be the top tier of the cake or an individual cupcake. Now is the time to literally "shower" her with magic and treats, so be sure to put plenty of thought and effort into the cake!
For more Bridal Shower Wedding Cakes, the original photos above and their credits, make sure to check out our Bridal Shower Wedding Cakes Pinterest Board!