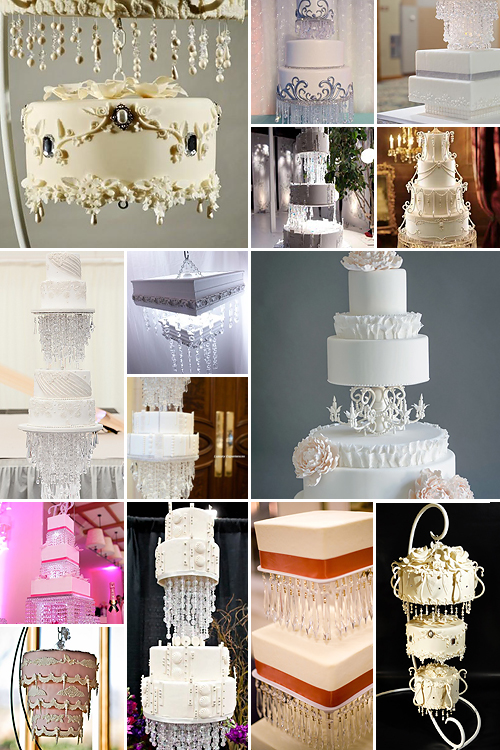 Chandelier wedding cakes are a guaranteed show stopper, designed not only as a scrumptious palate pleaser, but also to elicit an appropriate number of "oohs" and "aahs" from around the guest tables.
If you're wondering what we're really on about, chandelier cakes are, quite simply put, wedding cakes that are inspired by chandeliers. These magnificent cakes come in a variety of shapes and sizes, some adorned with strings of whimsical crystals and others physically suspended from the air like a real hanging chandelier – no, you didn't misread that, we're literally talking floating cakes!
The Hanging Chandelier: These spectacular cake creations are generally suspended from the ceiling or a wrought iron stand – almost like a giant shepherd hook. What makes them even more fabulous is the fact that you can hang this eye-catching creation anywhere in the venue – even in the middle of the dance floor or over the sweet goodies on the dessert table.
Hanging chandelier cakes are simply ideal for any type of whimsical and enchanting theme, such as Alice in Wonderland or ethereal weddings, but can work just as well for the more contemporary themes. If you're really up for fun and games, opt for an upside down theme and ask your cake designer to create an upside down chandelier cake by hanging the tiers in reverse order. But more on upside down themes later.
The Standing Chandelier: While this might be a simpler version of the chandelier cake, it's still nothing short of mesmerising and absolutely breath-taking. The idea here is to incorporate small elements of the crystal chandelier into the design of the cake, such as a curly chandelier inspired cake stand or tiny crystals strung around the edge of each tier.
We're also loving the chandelier inspired frosting technique which involves fine and dainty chandelier patterns piped around the sides of the cake tiers. Instead of icing, the design can also be created using cake pearls – stunning, sophisticated and oh so WOW!
For more ideas on Chandelier Wedding Cakes or to check out the original photos displayed above and their credits, make sure to check out our Chandelier Wedding Cakes Pinterest Board!