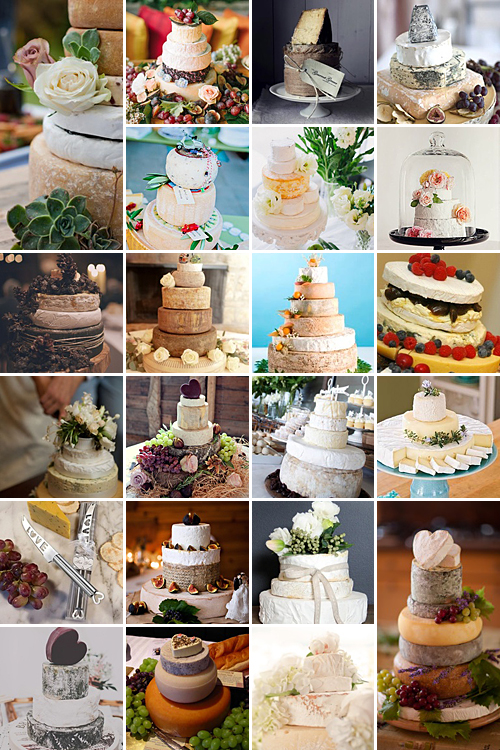 So you're not much of a sweet tooth and think wedding cakes are reserved for the girly-girl – hey, we don't judge! Over the past season or so the wedding industry has been all about reinventing the humble cheese wheel, building indulgently cheesy masterpieces in all shapes and sizes.
Cheese wheel cakes can be served with anything from fresh fruit and nuts – like figs, grapes, almonds and macadamias – to a variety of homemade preserves and pesto's. You might have heard cheese connoisseurs mention that a "vehicle" is essential – this will be something like a crusty bread or selection of crackers. Then again, why not break open a bottle or six and start a wine pairing soiree?
From a practical perspective, always use hard cheeses for the base of your cake – not only are they generally a bit more cost effective, but they're sturdy enough to support a number of tiers. A big wheel of gouda, edam or cheddar should do the trick, though if you're opting for an elaborate sized that's more than three tiers in height, your second tier should also be a hard cheese.
The question of when to serve this tower of cheesy bliss remains an open one: While some couples prefer to cut it on arrival and serve it during canapés, others like the idea of serving it as an after dinner or late night savoury snack. Whatever strikes your fancy! As an added little detail, surprise each of your guests with a cheese knife or mini cheese tasting "kit" which they can take home and savour after the wedding.
For more Cheese Wedding Cakes, the original photos above and their credits, make sure to check out our Pinterest Board!