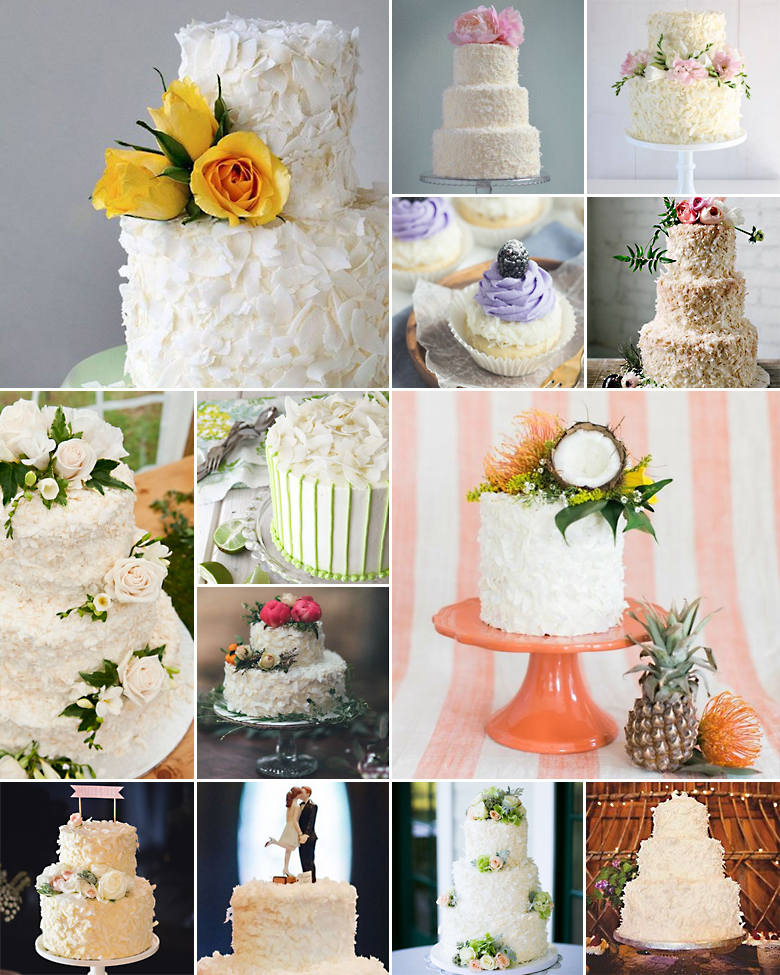 Winter is around the corner, and what better way to draw inspiration from this whimsical season that with a snow-inspired coconut cake? What you might not be aware of is the fact that coconut is available in a variety of flake sizes – from finely grated to petal-sized shavings.
The cake decorating options are therefore virtually endless, especially when you take into account the various different stencilling and patterning methods that most cake designers can offer you. We also love the subtle contrast between coconut dusted layers vs. plain white marzipan covered tiers – contemporary elegance has never been this moreish.
An alternative to fluffy white coconut is roasted coconut, where some of the flakes boast a delightful golden hue. This is more suited to a rustic or farm style wedding, and is perfectly complemented by something like a rough wooden cake stand.
If towering cakes aren't really your thing, opt for a tower of bite-sized treats like coconut ice. These yummy delights will certainly take your guests back to childhood days of queuing at the school fair for a cube of this sugary sweet coconut. Alternatively, dust a tower of mini cupcakes with coconut or serve coconut ice cake pops – absolutely divine!
Shop Wedding Cake Toppers
The requested RSS feed cannot be loaded at this time. This XML document is invalid, likely due to invalid characters. XML error: Undeclared entity error at line 22, column 147
Original images and their credits available on Pinterest