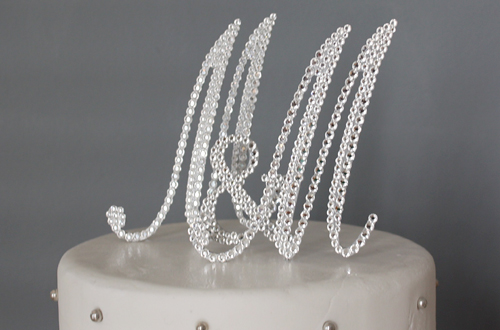 The traditional Bride and Groom Toppers have now become the thing of the past. Crystal Monogram Cake Toppers is fast becoming the new latest alternative, adding a personal touch to your Wedding day or to any other special occasion.
We at Crystal Toppers (based in South Africa) understands that each wedding is an event unlike any other. We take pride in our work and strive to provide a collection of modern, elegant and unique monogram toppers that will stand out on your special day, and will be yours to keep for years to come.
Each piece is custom designed and made to order for our clients specific needs. Every Topper which gets delivered is unique and personalised in its appearance.
Only the finest materials are used to ensure everlasting and perfection. Our products are made out of light weight aluminium metal "crystallized" with SWAROVSKI ELEMENT crystals in an array of 70 different colours.
We offer an assortment of different types of toppers: a single letter, full monogram and Custom design. The next step is to decide whether you would like it to be in a plain brushed metal, partially crystal or full Crystal. From then onwards the fun begins by choose your specific font and colour stones.
Our designers are available anytime of the day to assist you with customizing the perfect cake topper.
We also have an assortment of accessories to compliment your event. Examples: Cake Server Sets made with Swarovski Crystals, Bouquet jewellery, Iron- on Hens party motifs and more!
Take a look at a few of the options available below.