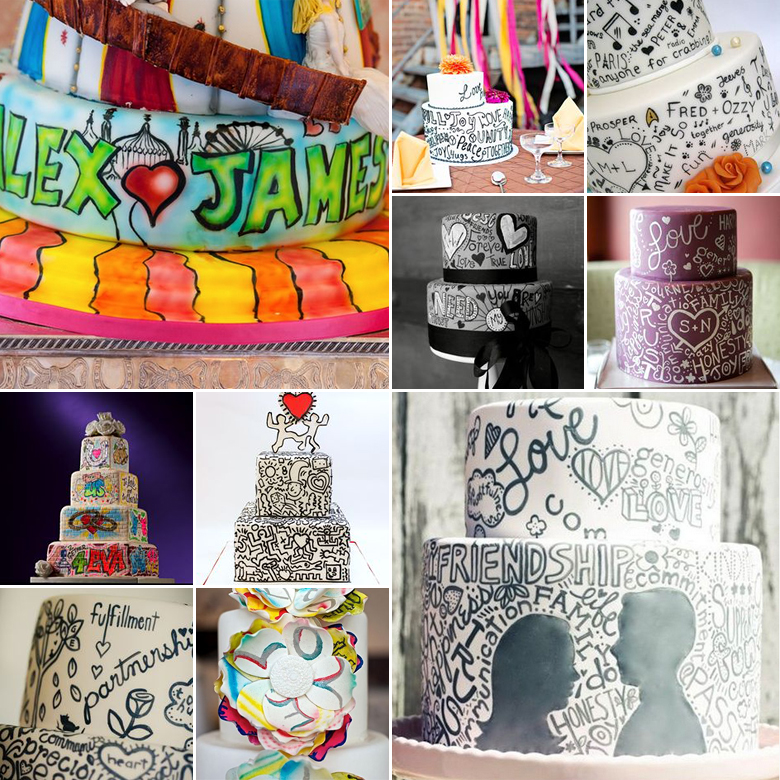 Graffiti is often frowned upon by the general public, but in the right place and surroundings it becomes an expressive form of personal art. And in this case, this right place is your wedding cake. Presenting a somewhat different take on the popular "painted cakes", graffiti wedding cakes make an incredibly bold statement – so make sure the rest of your wedding elements are the same league.
Now, what should this graffiti say? Having your names or monograms graffiti printed onto the wedding cake is an excellent option. Then again, why not keep it graphic with symbols and images that have real meaning to you as a couple?
To complement the grunge wedding cake, consider incorporating elements of graffiti elsewhere in your day. For instance in the stationery designs, on the tablecloths as wall art and even your wedding dress design.
Furthermore, use elements like leather and studs strategically to really bring the graffiti look and feel full circle. Why not dress the groomsmen in leather jackets or add a couple of studs to the bridesmaids' gowns? In terms of flowers, don't go for one colour – mix and match bold colours that match the graffiti art on your wedding cake to make a statement.
Original images and their credits available on Pinterest