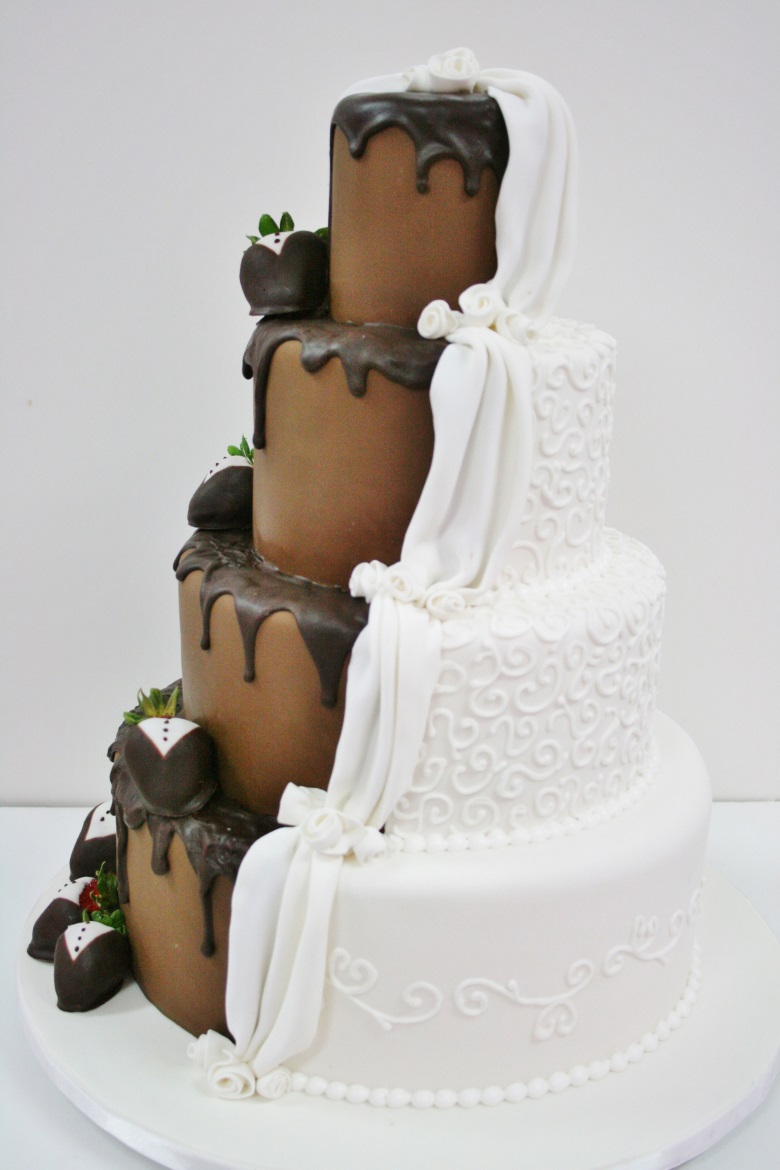 The wedding day is generally focused on the bride in her gorgeous gown. However, this is also the groom's biggest day and it is a great idea to include elements that are aimed at him and his personality to make sure that he is as much of a feature as the bride. Enter … the 'groom's cake'. Creating a manly wedding cake that reflects some passion or hobby of your man is novel, fun and shows him what an important part of the celebration he is.
As the bride, you may choose to have a groom's cake as the main wedding cake or as a complement to your more traditional wedding cake. You can cut this cake up rather than your groom's cake, or vice versa. This allows great flexibility.
There are various ways of defining a cake as belonging to the groom. It could simply be his favourite flavour (chocolate cake with pink marshmallows), or it could be more creative, even whacky. Why not decorate it with toy cars from his childhood or dress it in a matching tuxedo to what he will be wearing on the day? Alternatively, here are some more outlandish ideas:
Boys and beers – create a cake that resembles his favourite 'brewski'. A six pack is quite easy to create as it is more cubic in nature. Pay attention to the design of the label and make sure that the cake resembles it closely so that it looks more authentic. Alternatively, shape the cake as a beer glass, filled to the brim with golden beer and a generous head.
If your husband-to-be is a sports fanatic, create a stadium, complete with spectators and players on the field. This should be sizeable to allow for the details to be appreciated fully.
A real South African man will love his potjiekos or braaivleis. Create these interesting 'cuisines' with icing sugar and marzipan. Fill the "potjie pot" with colourful 'vegetables' or use jelly sweets to create the look of a pot full of exciting morsels. The meat on a barbecue is fairly simple. You may choose to create a cake looking like a big grilled T-bone steak, or you could set up an entire barbecue scene using cake and icing.
Confuse guests by presenting a platter of hamburgers and hotdogs as dessert. Once they bite into them, they will discover that these are sweet delights with a difference.
If the groom is a technology junkie, design his cake to resemble a laptop, iPhone, computer game or Xbox. The other guys are sure to get a kick out of this and the usually symmetrical shape will make it an easier option.
Image from Theme Cakes by Traci


Photo Credit: www.sweetgrace.net