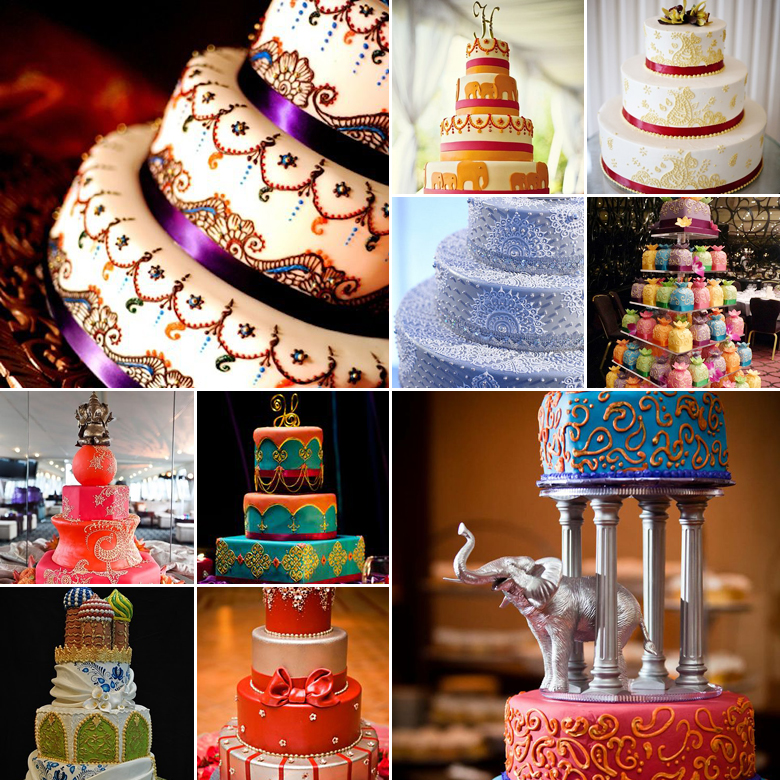 There's something so exquisite and ornate about Indian design, the designer in us just wants to eat it up. And this post is all about that! When it comes to adding a touch of glamour and extravagance to your wedding, you simply cannot go wrong with a show-stopping Indian/Bollywood inspired wedding cake.
First and foremost, it's important to note that opulence is key – so think five, six, even seven tiered cakes! This same sense of opulence and extravagance should be reflected in the choice of cake – rich chocolate ganache, being a good choice; but you then again, you can also draw inspiration from the magnificent Indian flavour palate : Moist date and cinnamon, spiced carrot cake, and so forth.
Indian weddings are renowned for the magnificently amount of attention that goes into even the tiniest and finest details. Delicate piping and repeating motives and patterns are therefore a must, and let's not forget embellishments like dainty cake pearls, fondant flowers, hanging crystals and delectable glitter. An elaborate cake topper is also essential, and you could look towards metalised ornaments or glitzy monograms.
Be sure to look towards traditional Indian elements like beautiful saris, for inspiration – incorporating the flowing fabric feel into the design of your wedding cake. Henna designs are also beautiful when interpreted from a cake decorator's perspective, and we just love the idea of incorporating famous Indian architectural styles into the design of the wedding cake.
Colour is essential – don't be afraid to go bold, bright and striking. Metalics are big this season and these days cake designers have the ability to mix up any shade or hue of gold, silver and brass – you name it.
Original images and their credits available on Pinterest