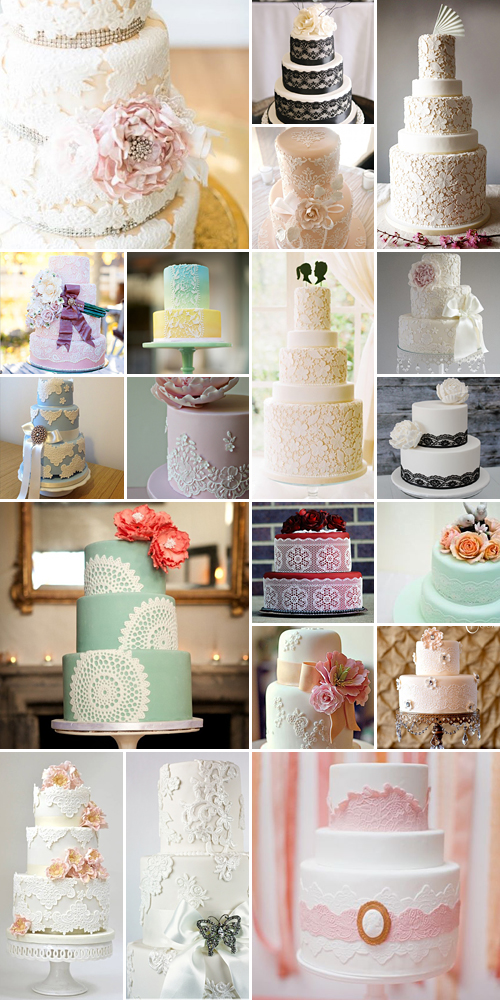 Certain wedding dresses can only be described as "so beautiful, you almost want to eat it" – a comparison which many a cake designer now takes literally. Lace wedding cakes are certainly a chart topper at the moment and the delicately crafted lace certainly adds that much-needed dash of romance to the dessert table.
Lace's true whimsy lies in its semi-transparent construction, which allows for plenty of layering to ultimately create a cake design with spoonfuls of dimension. The trick to keeping it stylish and elegant is to tone down the extra bits and bobs – simplicity is key. Stick to one or two decorative elements at the most and preferably bold striking elements to contrast the more dainty appeal of the lace.
Here are a couple of ideas to get you started:
Wrap the entire cake in real lace or simply tie a piece of lace ribbon around each tier.
These days' cake designers have the magical capability to craft edible "lace" out of fondant or chocolate. Wrapped around the multiple cake tiers, it not only looks stylish but delicious too!
Another designer option would be to have a chocolatier make a lace imprint into a thin sheet of chocolate and then wrap it around the individual tiers.
Create an elaborate rosette-type knot out of lace ribbon and use it as your cake topper or "rose" decoration on the cake.
Opt for cupcakes baked in laser-cut paper cups, which ultimately resemble lace.
Alternatively bake the cupcakes in normal paper cups and simply tie a lace ribbon around the cup.
Use tiny delicately crafted paper doilies on which to serve the cake or cupcakes to your guests.
Complement the vintage nature of the lace with other nostalgic elements, for instance a vintage cake stand, cake pearls or ceramic cake toppers.
Original images and their credits available on Pinterest