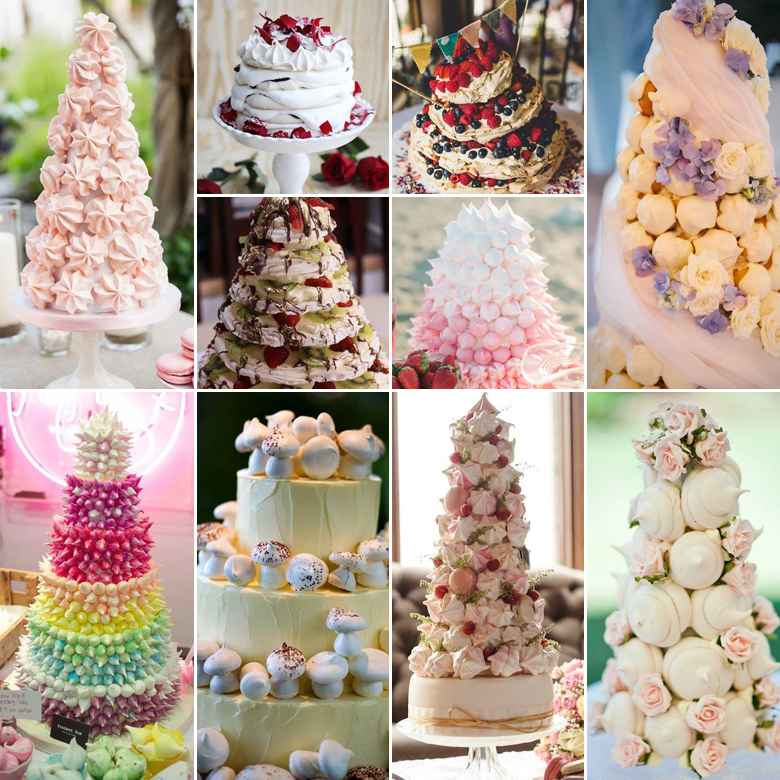 Ooh-lah-lah! Feast your eyes on the pretty indulge that is the meringue cake! There are many delicious and delectable ways to bring wedding cake and meringues together – here's a little taste:
Create a tiered cake out of large flat layers of meringue, with cream filling in between.
Meringue and fruit are a delightful combination that's both delicious on the palate and easy on the eye.
Cover the entire wedding cake in little meringues to give it a spiky appearance.
Instead of simple round meringues, play around with interesting shapes like roses, hearts, twirls and more!
Opt for a tower of meringues instead of a wedding cake, with ross in between to soften the overall look.
For an additional surprise, fill each meringue with cream filling or caramel.
We love the combination of meringues and cake glitter – simply out of this world!
Instead of crunchy meringues, consider topping or covering the cake with soft meringue (like you'd find on top of a lemon meringue pie).
In South Africa we love pavlova! Instead of a wedding cake, serve a variety of pavlovas (large meringue with fruit and cream on top) for guests to indulge in.
Original images and their credits available on Pinterest