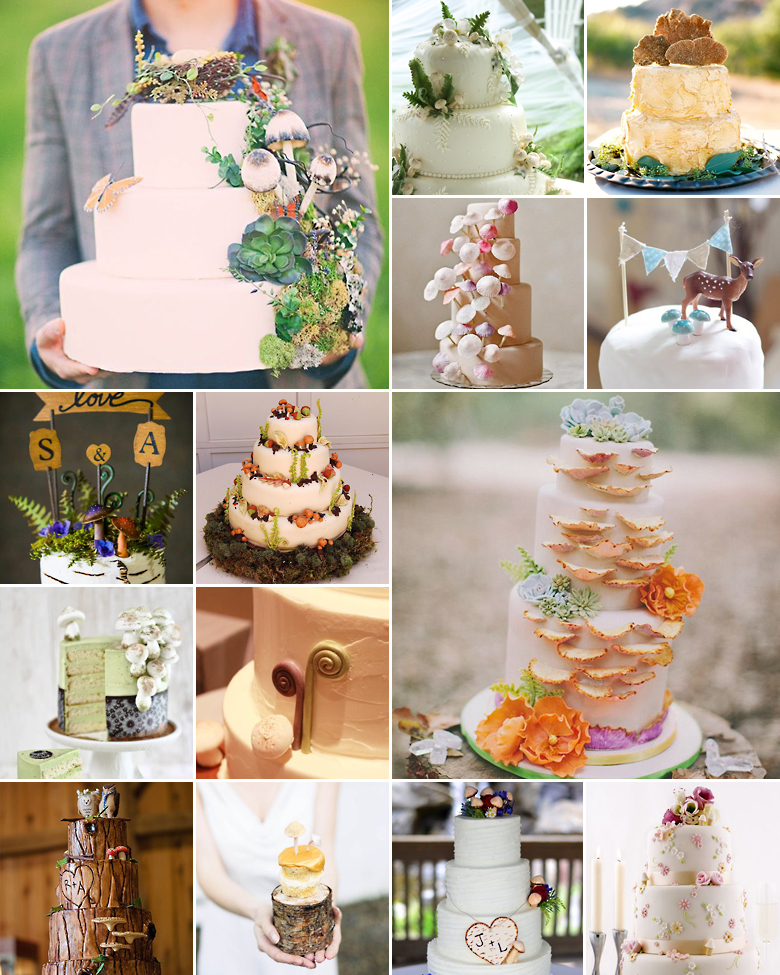 Mushrooms have always been associated with all things savoury, but as always, we say: Time to break the rules… with a deliciously sweet mushroom-themed wedding cake! Mushrooms come in all shapes, sizes, varieties and colours. Over and above decorating the cake with mushrooms, have your cake designer look at the textures, colours, patterns and designs of mushrooms for inspiration when creating the overall cake design.
While mushrooms will be the main focus of the cake design, there's no reason why you can't play around with other woodlands inspired elements – think little fondant bunnies, butterflies, ceramic deer and owls. We also love the idea of a wedding cake adorned with fresh berries and fruits, not to mention chocolate flakes that are reminiscent of tree bark. To further complement the natural and organic character of the cake, consider using an unpolished raw wooden slab as your cake stand or think about displaying the cake on a stunning wooden table.
And why stop at fungi decoration? Complement the mushrooms by decorating the cake with fresh forest foliage and flowers, as well as decorating the cake table with real mushrooms and lush green moss. What's more, consider adding fabrics like burlap and lace to add to the whimsical character of the wedding cake.
Lastly, if you're not much of a sweet tooth, why not go the savoury way? Munchies like mini mushroom quiches or tartlets, or even a selection of gourmet stuffed mushrooms make the ideal wedding cake replacement or midnight snack.
Original images and their credits available on Pinterest