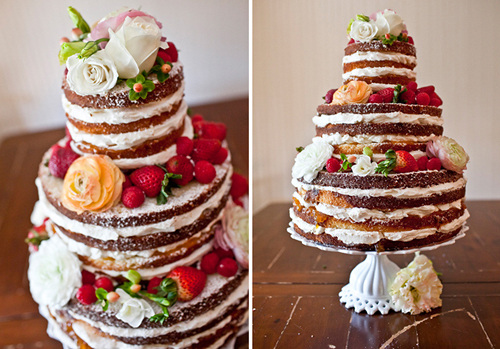 Now don't get strange thoughts when you hear "naked wedding cake". While this new trend does slightly bend the traditional rules, it's not all as extreme as the thoughts probably going through your head right now. The naked cake is simply a wedding cake with some of its "flesh" exposed. Before you write off the idea completely, here's a few things you should know about the naked cake.
This style of cake is ideal for the laid-back couple that's not full of frills and fetishes, and wants to break away from the traditional fondant covered creations.
The naked cake has a less polished appearance then the traditional wedding cake, making it simply ideal for a country-style wedding or something along the rustic lines.
With the cake exposed, you have the opportunity to really play around with the colour of it. A simple vanilla cake can be baked in all different colours, simply by adding a drop of food colouring. Isn't your head just buzzing with ideas now?
Instead of colour, make each layer a different flavour, for example a combination of vanilla and chocolate – divine!
Play around with the shape of the cake, for example you can go the traditional tiered route, or opt for a tall pillar layered cake.
If you're on a tight budget, this is the kind of cake your aunt's neighbour's mother's friend can actually attempt without there being too much chance of it going wrong. If one layer doesn't work out, chuck it out and start again!
Instead of one big wedding cake, you can have three or four cakes of different heights. Then again, why not go for different coloured cakes all decorated in the same style?
As the cake is so understated you can really go bananas with the decorations – flowers, fruit, leaves, a decadent drizzle, whatever you can think of.
As a bonus guests won't have to wonder what cake they'll be tucking into and as a result you'll see a lot less untouched plates of wedding cake sitting around the hall after the reception.
Instead of one big wedding cake, why not go for miniature naked cakes? You can either go for the naked cupcake, i.e. without paper cups, or mini layer cakes served as dessert or neatly packed in a box as guest favours.
The key here is layers. Not only are the slim cake/icing/cake/icing layers visually appealing, with no icing on the outside, the cake requires quite a few layers of icing in between to make up for it. In fact, you can almost call it an inside-out cake if you think about it.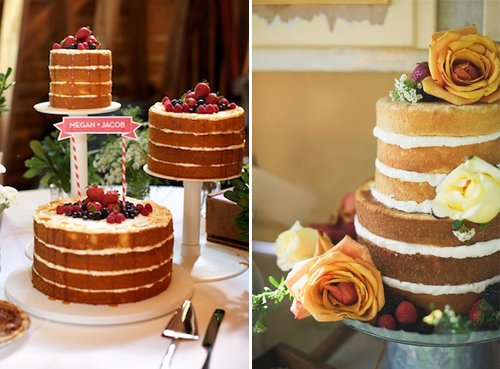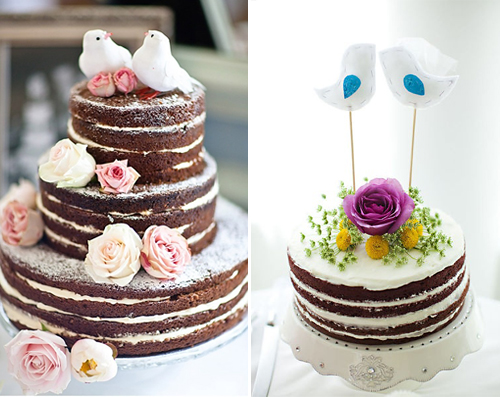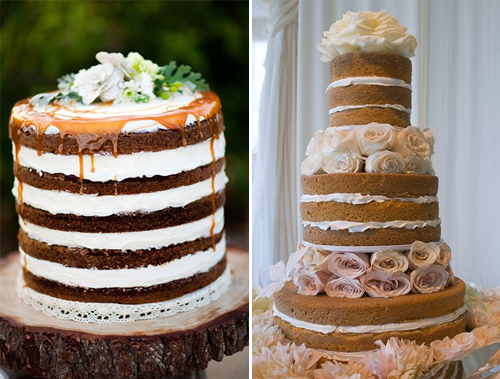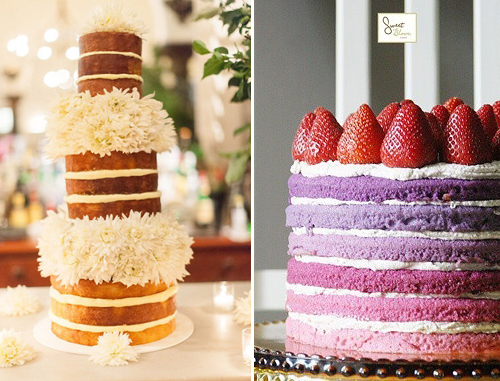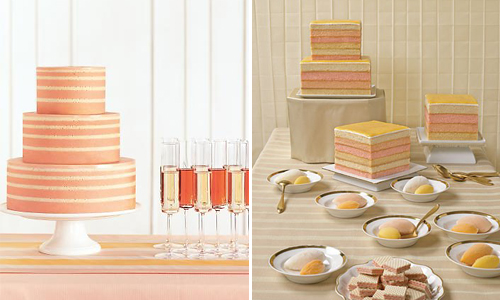 For more ideas on Naked Wedding Cake Ideas or to check out the original photos displayed above and their credits, make sure to check out our Naked Wedding Cake Pinterest Board!