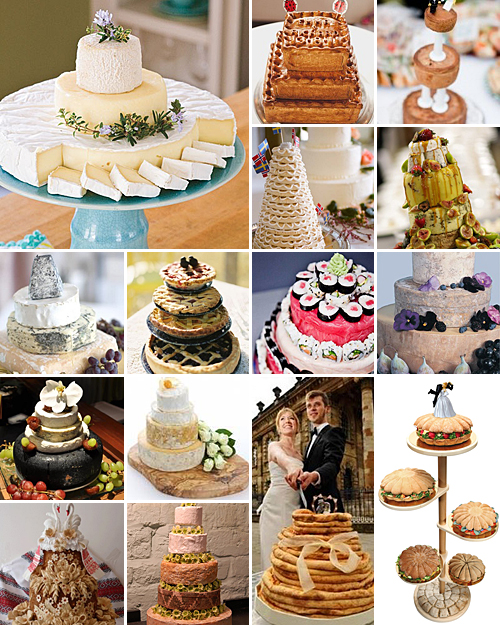 Just like we're not all blondes or brunettes, not everyone is blessed with a sweet tooth. Does that mean a wedding cake is out of the question? Most certainly not, madame! Savoury wedding cakes are the perfect alternative to sugary sweet fondant creations and you can be sure that there won't be a single crumb left over for tomorrow.
Paired with coffee or wine, a savoury cake is a guaranteed conversation starter simply because it's so unorthodox. If you really want to tumble out the box, consider serving decadent desserts at the pre-drinks and savoury snacks as your dessert. That way the sugary treats give tired guests a boost of energy before dinnertime, while the light and savoury snacks are the perfect way to end off a hearty dinner.
"Savoury" doesn't only imply cream crackers and cheese – on the contrary! Here are a few lip-smacking ideas to get the savoury juices flowing:
Stack a variety of cheese wheels on top of one another to create a delicious savoury "cheese cake". Serve the cake with a variety of fruits and crackers as a refreshing dessert alternative.
Serve a variety of home-baked pies such as pork, chicken and mushroom. To make it look like a wedding cake, bake pies of varying sizes and arrange them on a tiered stand. Alternatively fill a cupcake stand with mini pies.
A sushi cake! Simply arrange a variety of bright and lip-smacking sushi on a cake stand, and enjoy. Just remember, not all guests are fond of sushi, so it might be wise to have an alternative as well.
Have a bread table where guests can sample a variety of freshly baked breads from all over the world. Serve with preserves, pestos and cheeses.
Arrange a variety of seafood on a cake stand or platter – oysters, mussels, crab sticks, prawns, you name it! Not only is it colourful and pleasing on the eye, it's absolutely scrumptious too.
In true South African fashion, have the chef light the fire and prepare "roosterkoeke" or "stokbrood". These should be served hot with fresh butter, cheese, preserves and pestos.
Make up a snack stand with a variety of savoury snacks like mini skewers, samoosas, baked potatoes, sausages and so forth.
Chat to your wedding caterers or wedding cake makers for more tips and ideas!
For more Savoury Wedding Cake ideas, the original photos above and their credits, make sure to check our out Savoury Wedding Cakes Pinterest Board!