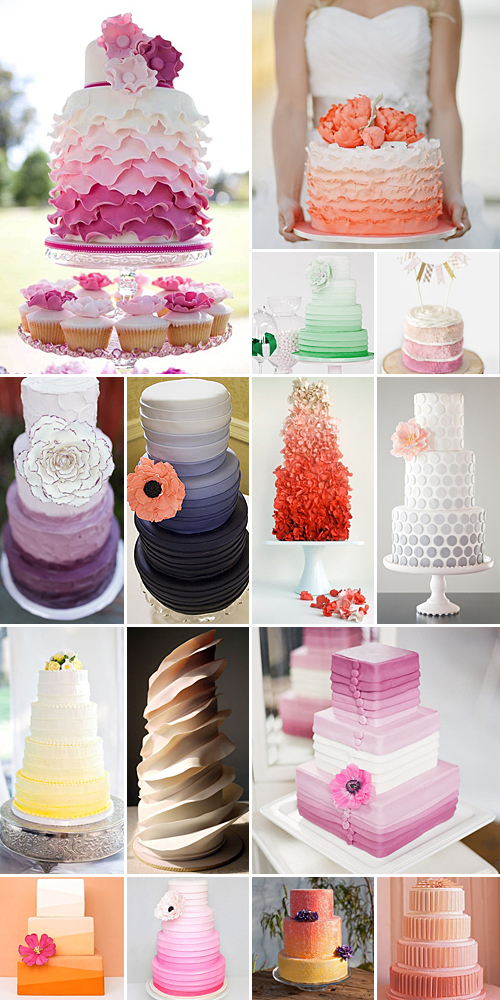 We have spoken about an ombre wedding theme before, but ombre wedding cakes are just so scrumptious that they definitely deserve an entire post to themselves! If you're still somewhat unfamiliar with the term "ombre", it simply means the subtle shade shift of a colour, from light to dark, for a romantic and striking celebration of a single colour.
Ombre cakes can really be created in all shapes and sizes to add to the overall allure of this decadent masterpiece. A tier cake in shades of ombre is probably one of the best ways to effectively achieve that stunning shade to shade transition – whether the transition is smooth or whether there are clear defining lines between the shades is entirely up to you and the cake designer. Feel free to include flowers in between the tiers that blend in with the shifting shades.
Nude ombre cakes are another lovely and more contemporary option. In this scenario the actual cake batter is tinted, and with each layer an extra drop of food colouring is added to create an overall layered ombre effect. The cake is then left unfrosted in certain areas to expose the nude ombre coloured cake. Alternatively you might consider icing the cake in its entirety which case the cutting of the cake will reveal a lovely ombre surprise buried beneath the frosting.
An alternative to ombre cakes is of course ombre towers. Here the idea is to stack cupcakes, macaroons or cake pops of varying shades to ultimately achieve the ombre effect. While this is not quite as striking as a tiered cake, an ombre effect can be strengthened by adding layers fresh flowers or baking the cupcakes in coloured paper cups.
For more Ombre Wedding Cakes, the original photos above and their credits, make sure to check out our Ombre Wedding Cakes Pinterest Board!