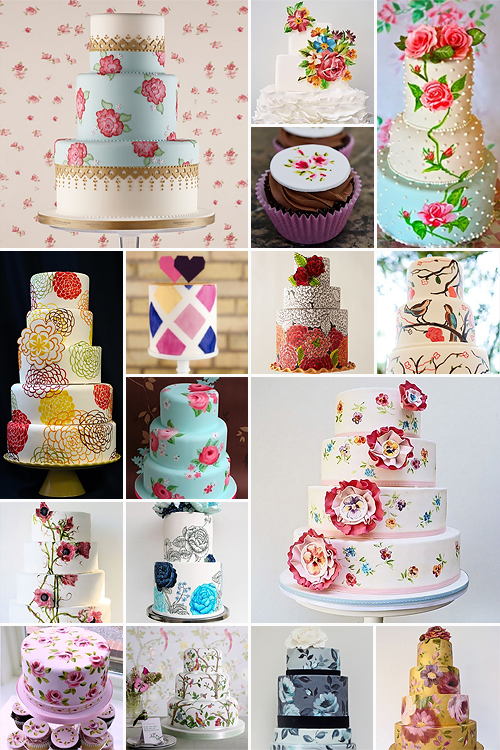 Painted wedding cakes are a brand new sensation and if Mr Van Gogh and co. were still around, they'd no doubt be all stand in line to sample a piece. Made with food colouring and fondant, "painted" really means "decorated with artful brushstrokes" – in other words, each of these creations are 100% edible so no one will be choking their way through the taste of acrylic paint on the big day.
From simple child-like paintings to elaborate artistic designs, these cakes are ideal for a couple that has true appreciation for art. The idea is to create an unusual show stopper that fits in with your style of wedding, whether it is elegant Da Vinci or street-style graffiti. If you really want to go all out, you might even want to consider having your favourite reproduced in pure icing.
This doesn't mean you need to stick to art-inspired cakes – painted cakes can mean any of the following:
Watercolours, for a soft and elegant affair.
A tattoo-inspired piece, if you're both into body ink.
School-yard scribble design plastered with hand-drawn hearts and kisses.
A design that is reminiscent of old-fashioned floral paintings and fabric patterns.
Bold outlines inspired by the beautiful stained glass windows in catholic churches.
Something a little more abstract alla Mr Picasso himself.
Intricate Japanese style paint designs.
A mesh of colours, inspired by an artist's colour palette.
Simple outline drawings, either well-crafted or mimicking a child's crayon drawing.
Go all out with a landscape 'painting', e.g. a water colour ocean scape with fondant waves to give it body.
For more ideas and inspiration plus the original photos and their credits, please check out our Painted Wedding Cakes Pinterest Board!