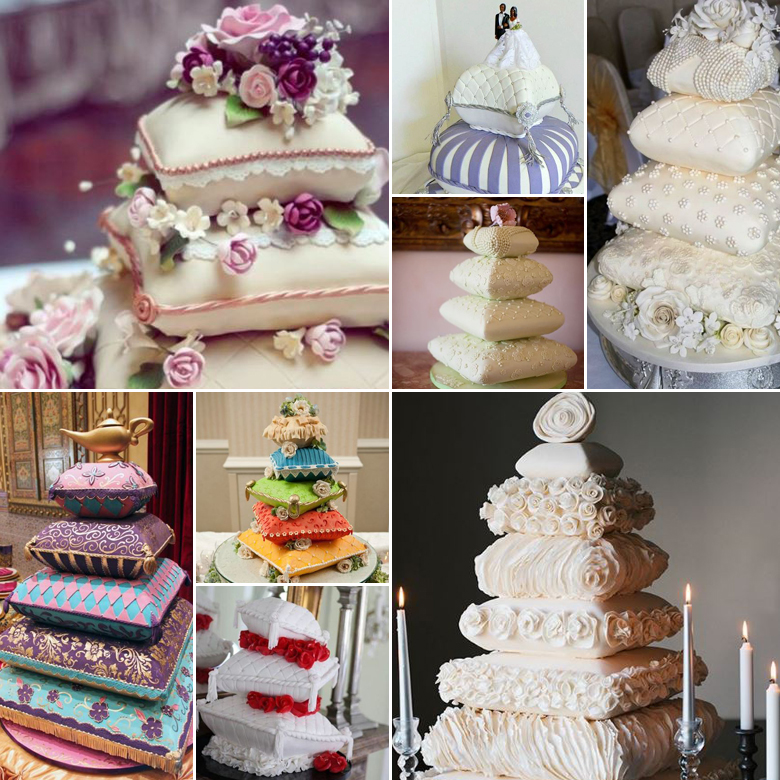 If you're expecting children at your wedding, be weary of this next idea – because your realistic looking wedding cake might just invite them over for a (messy) nap! Yes, you guessed it – we're talking about pillow cakes, and get ready because you're about to fall in love. An interesting take on the traditional wedding cake, these plump and cozy looking cakes are the epitome of regal elegance, and will fit right in with your royal wedding theme.
First off, by pillows we don't necessarily imply that you need to take your bed's pillows to the cake designer to duplicate – unless of course they're really nice pillows and hold some significance for you as a couple. One option would be to create an oriental themed pillow cake to go with your Moroccan themed wedding, or to commemorate your travels through India.
Nowadays cake designers can create all types of beautiful patterns, mimicking anything from ruching to stitching. For a more vintage themed wedding, consider incorporating some crochet patterning or even edible lace into the cake design.
Another lovely option is to "immortalise" your ring cushion in cake. In fact, if you're up for a bit of fun, why not use a pillow case as your ring cushion, and stick the rings into the cake? In this way, you can potentially tie the cutting of the cake into the wedding ceremony.
Original images and their credits available on Pinterest