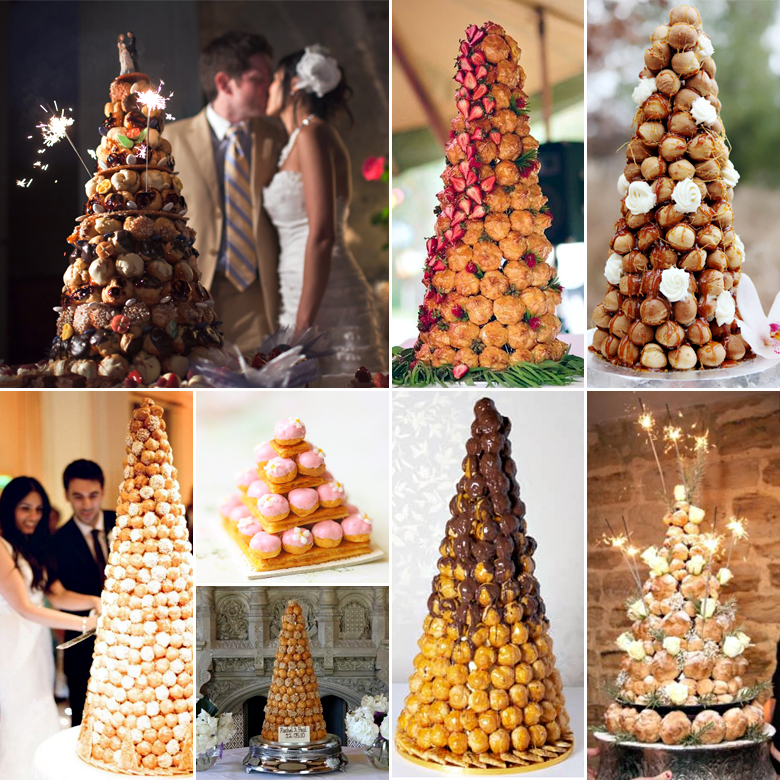 You don't have to be French to enjoy a good profiterole – or in this case, an entire tower of cream filled pastries! These pyramids of happiness have become a firm favourite among brides, and many prefer it to a traditional wedding cake.
First off, you can play around with various flavours of profiteroles – from the traditional cream filled ones and berry coulis, to custard, chocolate ganache and even ice cream! Though in the case of the latter, it's best to serve it quickly. Alternatively, opt for ones that aren't filled and allow guests to choose their own filling.
When decorating the cake, we love the idea of cake glitter – who doesn't like the idea of a little sparkle after all? Sugar art also adds a touch of glamour and delight to the sculpture, as does frosted rose petals and lavender. Alternatively drizzle chocolate over it and scatter some berries over the top for good measure.
If you think some guests might not like profiteroles, you can look at adding some other elements to the cake. For instance, why not consider a combination of profiteroles and macaroons or meringues? All equally French, all equally indulgent! We also love the idea surrounding the cake with bite-sized delights like petit fours and mini cupcakes.
Original images and their credits available on Pinterest