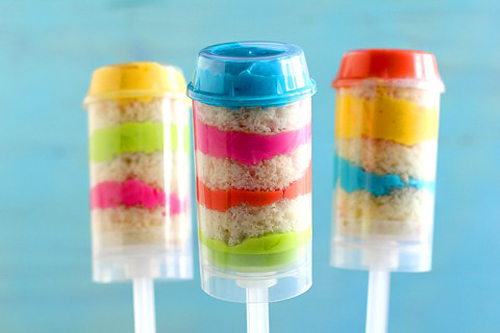 Do you remember the push pop – those little plastic cylinders on sticks used for pop-up popsicles? Well, whether you do or don't, you're going to love this idea every bit as much as we do! Forget about icicles and sherbet – push pops have taken on a whole new character and are fast becoming the new cake pop – genius, right?
No one really knows who first came up with the brilliant idea of filling the push-up pop with mini trifles, mousse, cake and desserts, but it's really caught on overseas especially among brides, and it's just a matter of time before these cute treats take the SA market by storm.
The choices of pop filling are practically endless – from decadent cheesecake and mousse, to layered cake pops and even mini frozen cocktails! We especially adore the idea of filling the transparent cups with layered rainbow cake in your theme colours. While these can be popped out quite easily without mess or fuss, desserts like mousse might not be all that "pop-able" so be sure to invest in a couple of mini spoons.
Basically it's a matter of filling your pop with your desired dessert, popping a cap on top if you so wish and finding a pretty way to display it. When it comes to filling pops with messy mousse and frosting however, don't complicate matters – use a spout of icing syringe to tube the filling into your little cups.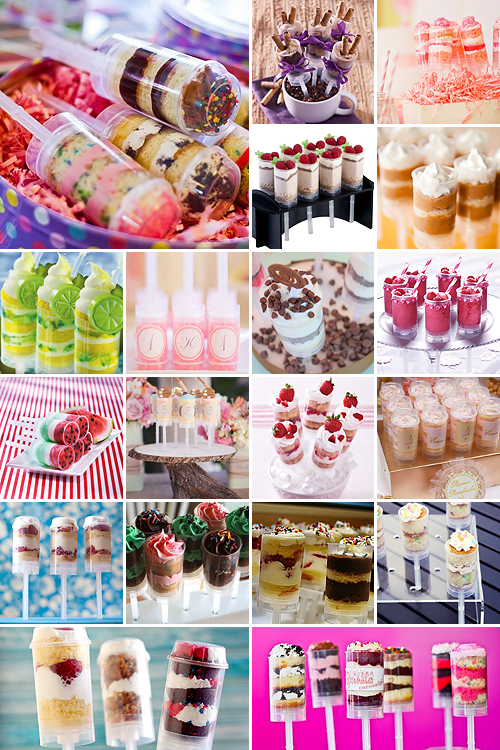 Push-up pops are not only oodles of fun and lip-smackingly delicious, they can also serve a practical purpose:
Print each guest's name and table number on adhesive paper and stick it on the side of each pop. Mount the pops on a flat foamalite base in the foyer to serve as delicious seating plan.
Create a wooden or foamalite stand with three tiers to serve as your very own push up pops wedding cake.
Mount the stem of each pop in a piece of fruit such as a lemon or apple, and place it next to each guest's plate with his name tied to the push pop.
Combine the pretty pops with flowers and arrange them in the shape of a mini edible bouquet on each table.
The push pop "device" can be ordered online – a simple Google search will reveal a number of suppliers – as well as bakery supply stores. Be sure to also ask your cake designer about it.
For more ideas on Push-up Cake Pops or to check out the original photos displayed above and their credits, make sure to check out our Push-up Cake Pops Pinterest Board!