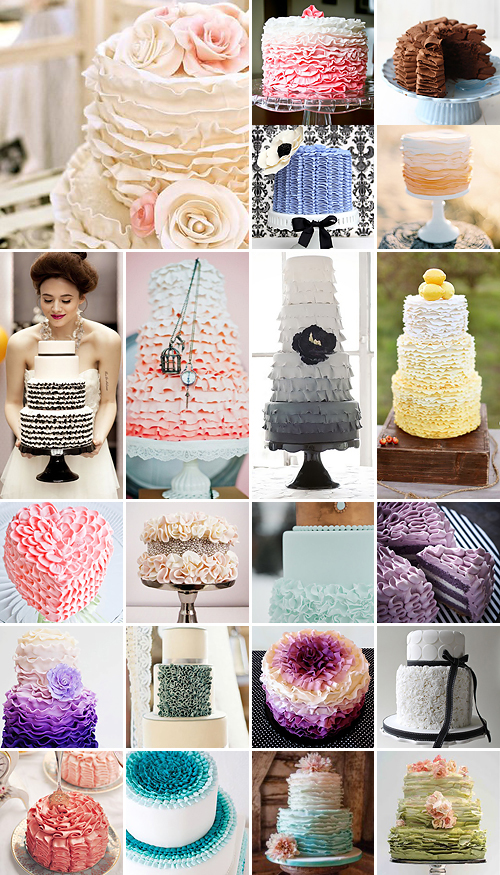 For years wedding dress designers have drawn their inspiration from cake and, giving way to popular terms like "meringue dress" and "pretty cream puff". But who would have thought that the tables will one day be turned? These days cake designers draw their inspiration from wedding gowns, as is the case with these breath-taking and beautiful ruffled wedding cakes.
These romantic and decadent creations are a treat for the palate but an even greater indulgence for the eye. Ruffles can be elaborate, curly, frilly and girly like Marie Antoinette; they can be soft and mesmerising like flower petals; or you can opt for chocolate sheath ruffles which is somewhat simpler and almost resemble layers of peeling paint. The question you need to ask yourself is: How far over-the-top do you want to go?
When it comes to colour, the options are virtually endless – from bright and beautiful rainbow colours and decadent chocolate, to subtle ombre and burlesque inspired "black and co." Ruffles and antique colours, however, go together like lemon and meringue – apple and cinnamon – cake and icing – and we just love dusty pink, pale blue and antique cream icing frills. For a full ruffled vintage look, add a rosette, mini cake bunting or vintage brooch as decoration or round it off with dainty cake pearls.
Ruffles aren't only reserved for towering three, four, five-tiered cakes, and are just as pretty on cupcakes or single tiered creations. If you'd like to take it a step further, complement the ruffled wedding cake with ruffled napkins, bridesmaid dresses or table linens. However keep chanting "less is more, less is more" when you make your selection so you don't end up with an overly frilly affair.
For more Ruffled Wedding Cakes, the original images above and their credits, make sure to check out this Pinterest Board!