Savoury Wedding Cakes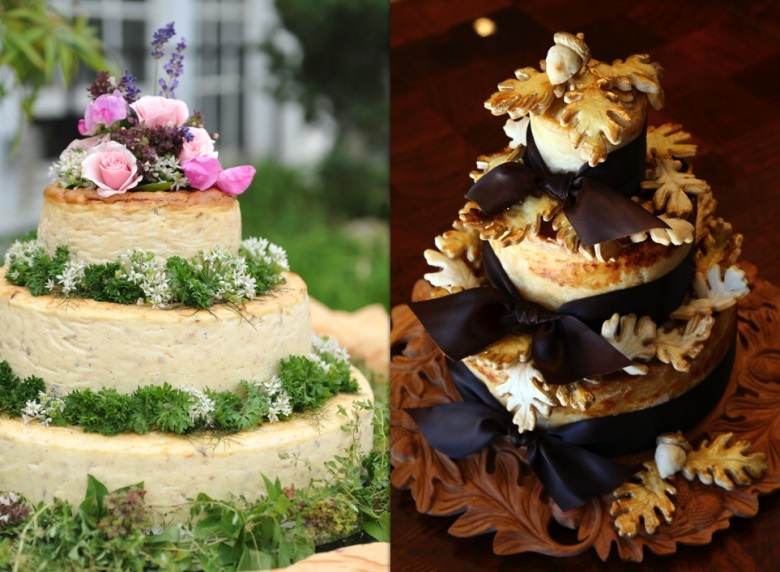 Many bridal couples may reel in horror at the thought of replacing their tiered sugary tower with a more savoury option. However, this idea is actually becoming more and more popular as fewer guests indulge in the heavy sweetness of a traditional wedding cake after their hearty meal. This has urged caterers, wedding organisers and couples to become more innovative in their approach to the traditional wedding cake.
Savoury wedding cakes are usually built to resemble a multi-tiered cake, complete with romantic decorations and embellishments to suit your wedding theme. In this way, the bridal couple does not negotiate on the style and glamour of the traditional approach at all. This also helps to make the link for the guests, so that they understand that this arrangement replaces the wedding cake they may have been expecting.
The following ideas are just some innovative inspirations to make your savoury wedding cake beautiful and memorable:
Cheese - wheels of cheese surrounded by fig preserve, dried apricots, biscuits, port and sherry can make for a stunning display. Many cheeses are white or light yellow on the outside, giving this arrangement a distinctly "wedding cake" look. In addition, cheese and biscuits is a popular post-dinner favourite and is sure to be enjoyed by the majority of the guests.
Sushi - colourful, delectable sushi and sashimi pieces look exquisite when arranged in a tiered pyramid. This is a real treat for many and adds a certain sense of elegance to your occasion. Ensure that a professional sushi chef creates your cake so that your sushi looks fresh and attractive.
Pies - create an ensemble of mini pies that are tasty, but not too heavy. These could comprise pork, lamb & mint, ostrich, vegetarian, cheese, and so on. After a while on the dance floor, guests may become peckish, making a bite-sized pie just the thing to fill the gap.
Snacks - construct a wedding 'cake' out of delectable finger snacks that can be picked off at leisure. These may include spring rolls, prawn tails, pumpkin fritters, cheese puffs, crab cakes, mini sausages, etc... This sort of display should be garnished well to avoid it all being the same colour and texture.
Seafood - treat your guests to a luxurious platter of oysters, caviar, calamari, mussels and prawns in a gorgeous marine creation. This has to be done tastefully to avoid a very kitsch looking cake, but can be stunning if handled by a professional.
Pizza - for a fun approach, offer something everyone likes. Pile pizza slices into a cake design and young and old alike are sure to 'dig in'.
Breads - the variety of bread is truly inspiring. In addition, it can be baked in any style and shape. Hire a professional baker to create an eye-catching wedding cake of breads and surround this with farm butter, jams, preserves, cheeses and spreads.

Photo Credit: jankishlapetitefleur.com