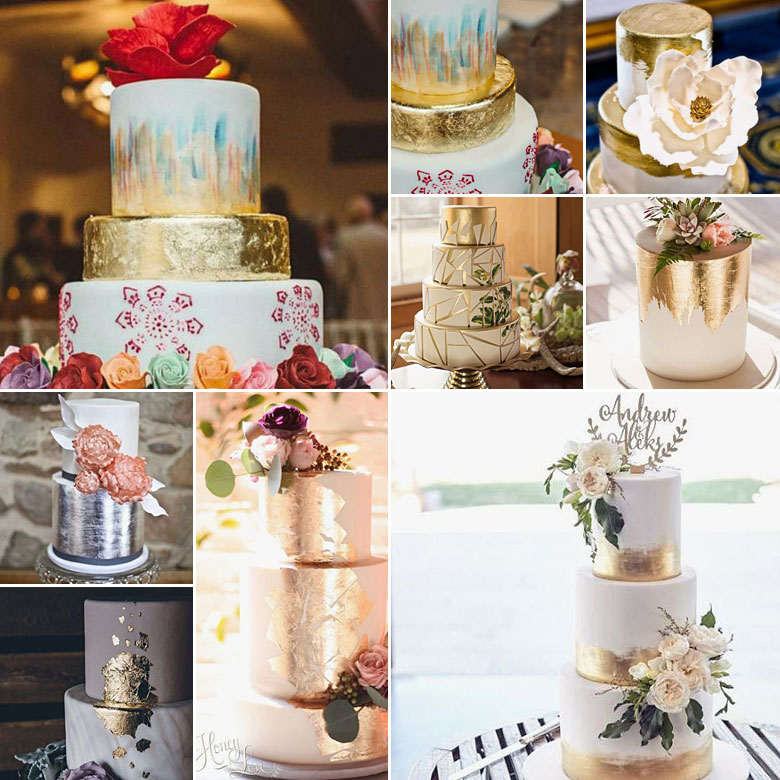 The first time someone suggested foiling wedding invitations, you probably thought "no, foil belongs in the kitchen" – but you soon fell in love with it just like the rest of us. Now we're talking about foil wedding cakes and you're probably thinking "that doesn't sound right!" but bear with us, because once you've seen it, you won't be able to fall out of love with it.
It's no surprise that we're in love with all things shiny and glittery, and foil cakes fall neatly into this category. The foil-look for wedding cakes is very high on the must-have list, and it's especially gorgeous when you throw a couple of fresh flowers into the mix.
The foil look can be applied in many different ways – from geometric shapes and art deco inspired styles, to crunched foil and colour mixes. It's also the ideal complement to a metallic themed wedding, and the theme can be extended by adding touches of cake glitter to the cake ensemble.
Finally, you can also consider various colours of foil – gold isn't the only option! For instance, if you're more of a silvery person, opt for silver foil, or add a touch of warmth with bronze or rose gold.
Original images and their credits available on Pinterest