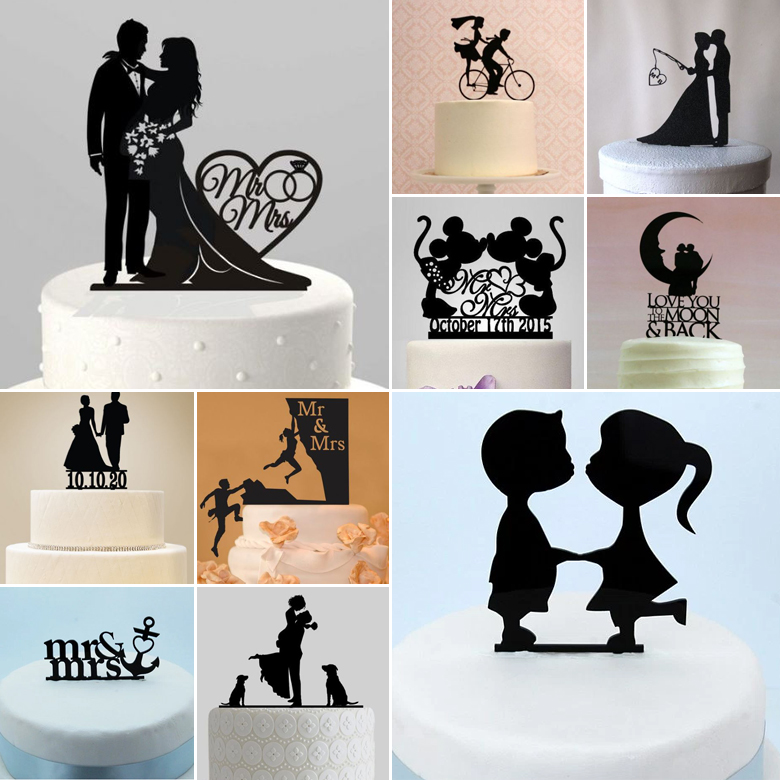 The humble cake topper has always been a wedding must, but over the last couple of years it's also become a source of immense creativity and fun. Our latest obsession is silhouette cake toppers! This simple but elegant trend gives you the opportunity to give reign to your passion and personality.
Available in all shapes and sizes, these darling toppers are the ideal complement to any style of wedding cake – from the sweet and the frilly to the savoury and the more overly dramatic. There are also many manufacturers out there who can create these toppers according to your own unique specifications.
What makes silhouette toppers so incredibly special is the fact that you can choose and customise them to suit your unique personalities and personal style. For instance, choose little bride and groom figures that reflect your fun and carefree nature, or opt for kids or little animals! The options are virtually endless.
Alternatively, silhouette wording and monograms are an excellent way to express what's on your heart. Whether it's words of love or adoration, or a meaningful quote. Random shapes are also beautiful, especially if you complement the main cake topper with smaller silhouette decorations and toppers.
Cake Toppers Available on Celebration.co.za
The requested RSS feed cannot be loaded at this time. This XML document is invalid, likely due to invalid characters. XML error: Undeclared entity error at line 22, column 68
Original images and their credits available on Pinterest