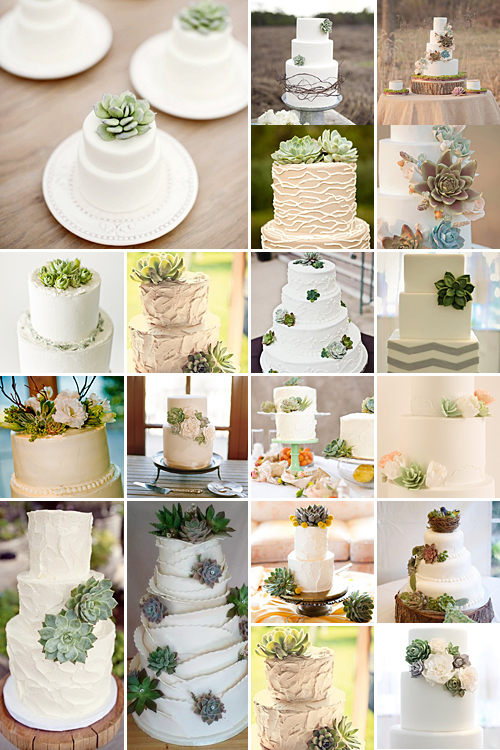 If you can decorate a wedding cake with fresh flowers, then why not succulents as well, right? Plain white cakes generally tend to work best for this purpose as the combination of crisp white and organic green is nothing short of refreshing and naturally mesmerising. Let's look at a couple of ideas for turning an ordinary cake into a scrumptious and succulent masterpiece:
Pick two succulents that reflect your and your hubby's individual personalities and use them as alternative cake toppers.
Complement the rustic nature of the succulents by incorporating other natural decorative elements into the design such as twigs, stones and bits of bark. Also consider using an unpolished slab of wood for the cake stand.
Arrange the succulents down the side of the cake, almost as if it's flowing down onto the cake stand and table top.
Surprise each of your guests with a mini cake in a pot! The idea is to bake a cupcake in a terracotta pot, decorate it with brown icing that resembles soil and place a succulent on top – the perfect edible pot plant guest favour.
Flowers that work well with the organic colours and character of succulents include pastel coloured peonies, billy balls, ranunculi, cream flowers and fruits.
Incorporate lace, ribbon and other feminine elements into the design, in order to create intriguing contrasts with the succulents' rusticity.
Instead of using real succulents, ask your cake designer to sculpt succulents out of fondant or icing, that way you can ensure that the succulent is absolutely perfect in shape and colour.
NOTE: While most succulents are fairly harmless, it's better to be safe than sorry – inquire at your local nursery or florist to find out whether the specific plant that you're planning on using is in fact non-poisonous. After all, the last thing any bride wants is to send her guests home with food poisoning!
For more Succulent Wedding Cake Ideas, the original photos and their credits, make sure to check out our Succulent Wedding Cakes Pinterest Board!