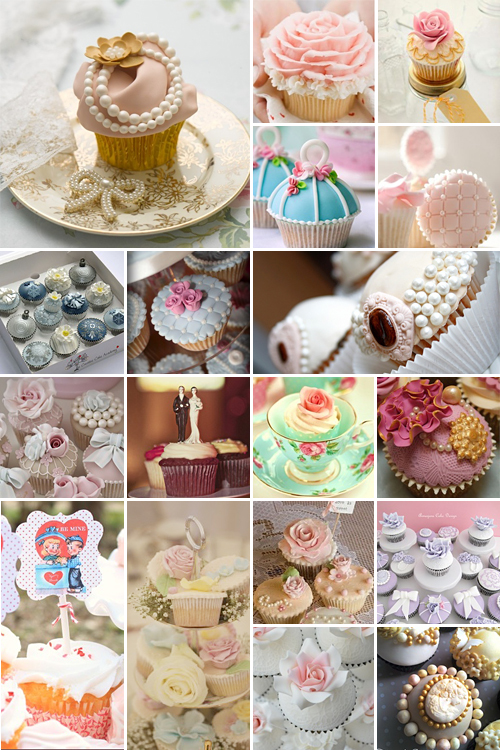 We've covered vintage from just about every angle, except for cupcakes that is. Creating vintage treats is a little more challenging than choosing the décor for your vintage affair – after all, no one wants to bite into a cupcake that's inspired by peeling paint or rusted enamel! So first and foremost, you need to maintain the perfect balance between theme appropriateness and taste appeal.
One of the key tricks to creating vintage style cupcakes lies in the choice of colours – it's essential to keep your palette soft and stick to powdery shades of cream, pink and yellow. Once again, you want to steer clear of unappetising colours like blue and green.
Much of the vintage appeal will lies in the display of the cupcakes, so make use of vintage cupcake stands or have your pretties baked into vintage/laser cut cupcake holders, enamel mugs and teacups. The choice of actual cake will also play a defining role in the vintage nature of the cupcake – opt for old favourites like fruit cake, carrot cake, Victoria sponge and chocolate cake.
In terms of decorating and design, ideas include:
Jewellery inspired cupcakes, decorated with fondant cameos, cake pearls and cake glitter.
Fashion inspired cupcakes, decorated with bits of lace, bows and crochet designs and textures.
Wallpaper inspired cupcakes where the delicate embossing and patterns of wallpapers are laid into fondant.
Cupcake designs or cupcake toppers derived from vintage comic illustration styles.
Fun designs such as mini fondant bunting, flowers and bows. You can also play around with polka dots or laser cut decorations like fondant bird cages, moustaches and top hats.
Cupcakes inspired by vintage royalty – that's to say, branded with your own monogram or topped with gold tinged frosting.
Original images and their credits available on Pinterest