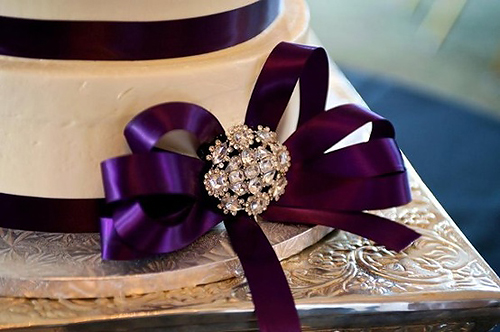 These days it's not just the bride who is adorned with pretty jewellery before her big day, but also the groom, the tables and now the cake! In many cases cake jewellery is not to be consumed which makes it an extra little something for you to keep as memento of your special day. Then again, other jewellery such as cake pearls and marzipan buckles can be scoffed down and is a great alternative to eating cake off your partner's fingers. Let's look at a couple of dazzling and bedazzled ideas: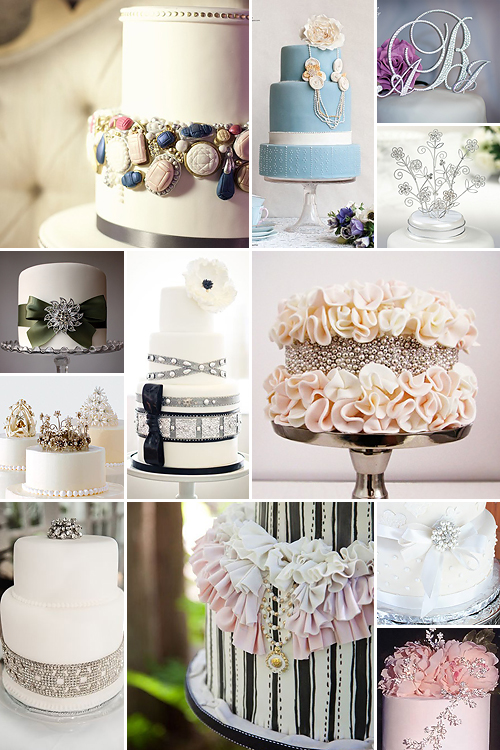 With vintage being all the rage, consider decorating your cake with vintage brooches. Alternatively have your cake designer create a variety of brooches and cameos out of sugary fondant.
Be extravagant and have the entire cake (or one of the tiers) covered in cake pearls.
Instead of the traditional cake toppers, opt for bedazzled perspex monograms.
Scour the shelves at bead and craft stores for bejewelled ribbon or diamanté string to wrap around the body of the cake.
Instead of silver or gold embellishments, adorn your cake with hanging crystals.
Thread crystal beads onto craft wire and bend it into unique shapes such as hearts, daisies, twirls or zig-zag patterns with which to decorate the cake.
Brighten up ribbon rosette with a lovely brooch at the centre and pop it on the cake as a finishing touch.
Combine your cake jewellery with real flowers to create a spectacular jewel-meets-nature creation.
Round off a simple ribbon with a lovely diamanté buckle.
Visit a local semi-precious stone dealer and rummage around in the scratch patch for lovely stones for less than a nickel.
Alternatively, pop in at your local craft store and pick up pretty little rhinestones with which to bedazzle your cake.
For more ideas on Cake Jewellery or to check out the original photos displayed above and their credits, make sure to check out our Cake Jewellery Pinterest Board!