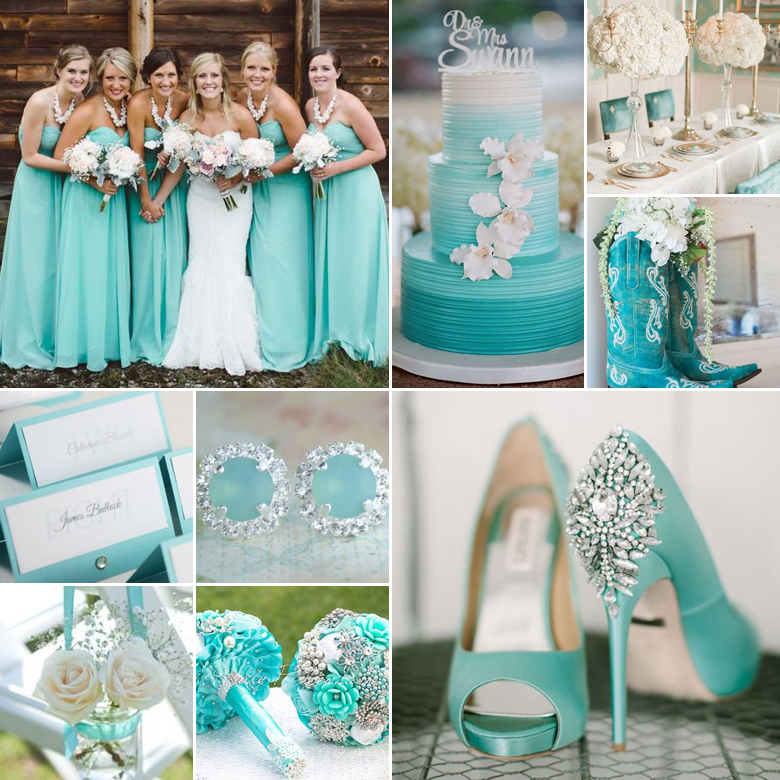 Aqua, or Tiffany Blue as it's known in some circles, is one of those "can do no wrong" colours, that's practically made for the wedding day. Ticking the boxes of both feminine brides and masculine grooms, an aqua wedding will get the stamp of approval from all parties, and is perfect any time of year.
While big doses of white or ivory is mandatory, you can also liven up the colour scheme by adding touches of silver or light gold. The idea is to create an all-encompassing atmosphere, not just a colour scheme.
Dress your bridesmaids in elegant floor length aqua dresses, to create the illusion of mermaids walking down the aisle.
Serve potent but delicious aqua coloured cocktails as welcome drinks.
Bathe the venue in soft shades of aqua lighting to create an underwater atmosphere of peace and serenity.
Add small touches of aqua to the groomsmen's outfits, but be clever about it – think quirky socks, braces and interesting boutonnieres.
If you can't settle on a single shade of aqua, incorporate touches of ombre loveliness in areas like your wedding cake and table cloths.
Opt for blue and white flowers like hydrangeas, cornflowers and bluebells.
Original images and their credits available on Pinterest