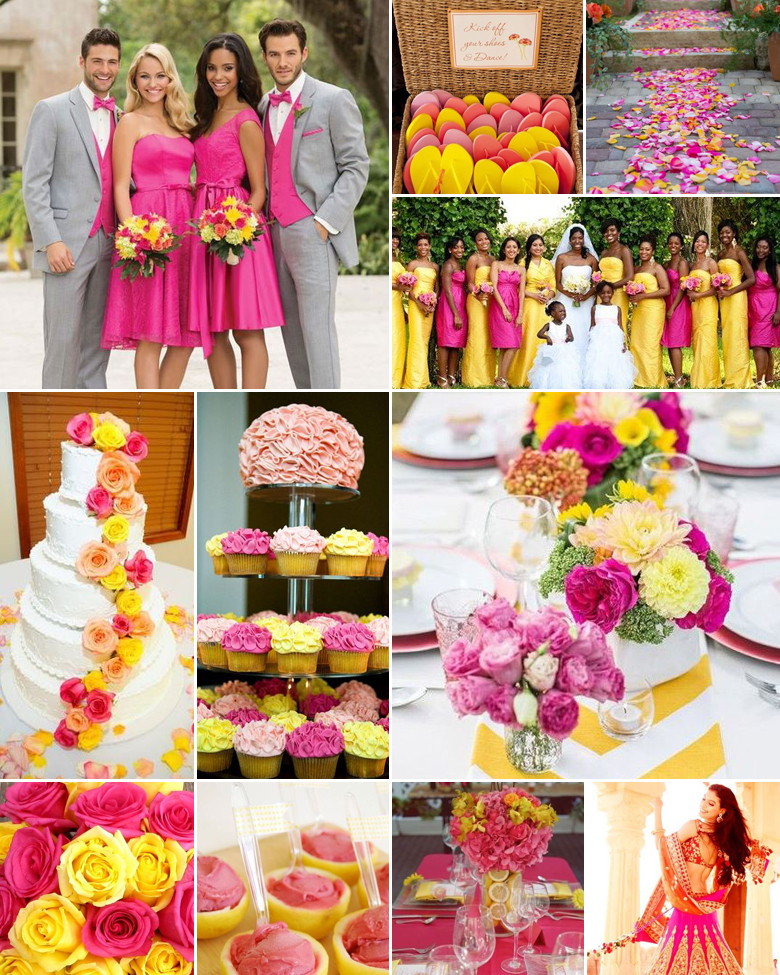 In the wedding world, summer is basically around the corner – since you're most likely already busy planning for your spring or summer wedding. With that in mind, today's colour scheme ticks all the right boxes when it comes to fun, festive, vibrant spring/summer celebrations!
Begonia and yellow are two colours that are reminiscent of fresh gerberas, and you really can't ask for a more flamboyant colour scheme.
Use white as your base colour, and add your theme colours in either small touches or big colourful splashes.
Serve refreshing lemon and strawberry cocktails, milkshakes or sorbet.
When it comes to choosing flowers, you can combine a number of species like gerberas, roses and peonies in your two chosen theme colours.
Keep it festive with brightly coloured ribbon sticks (instead of confetti) and big happy helium balloons in begonia and yellow.
If your bridesmaids are up for it, dress them in begonia coloured gowns – or keep it simple with grey or black dresses with yellow and pink accents.
For extra fun and vibrancy, add begonia and yellow coloured sparkles and sequins to your wedding décor.
Add small touches of colour to your own bridal ensemble in the shape of a bouquet or colourful shoes.
Original images and their credits available on Pinterest