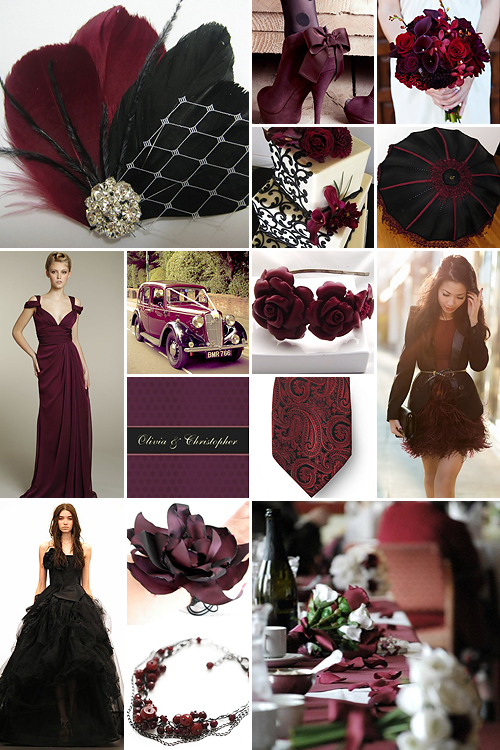 You're passionate about life, you love drama and you can't resist raising eyebrows; Bride-to-be, this one has your daredevil name written all over it. While this is quite a dark and dramatic colour scheme, black and maroon is perfectly suited to a winter or evening wedding and is really something your guests are sure to remember.
Some might say the colour combination has a somewhat punk, almost Gothic character about it, however this can easily be combated (if you so wish) by adding plenty of crisp clean whites, ivory or soft cream to the bold mix as well as playing with different shades of red and maroon.
Place large bowls of juicy dark red cherries on each guest table or use these lip-smacking treats to decorate your wedding cake and dessert table.
Choose deep red roses or maroon-black calla lilies for your bouquets and accentuate each floral creation with striking black ostrich feathers. Other maroon flower options include magnolias, orchids and gerbera daisies.
To boost the "drama-factor", incorporate wrought iron elements into your big day and decorate it with maroon creeper roses.
Black doesn't have to be all dark and dreary, it's just a matter of choosing your elements carefully. Décor pieces such as black chalk boards, black records, black balloons and black perspex letters all have a fun and playful nature about them.
Serve black and red liquorice or strawberries dipped in dark chocolate, along with glasses of deep red wine – especially appropriate for the time of day or year of a maroon and black wedding.
For a more 1940s burlesque approach, be sure to use plenty of black lace and feathers.
Dress the groom in a black suit with burgundy waist coat or cummerbund.
Decorate the venue with hundreds of black and maroon Chinese lanterns strung from wall to wall or, in the case of an outdoor wedding, tree to tree.
For more ideas on Black and Maroon Weddings or to check out the original photos displayed above and their credits, make sure to check out our Black and Maroon Weddings Pinterest Board!