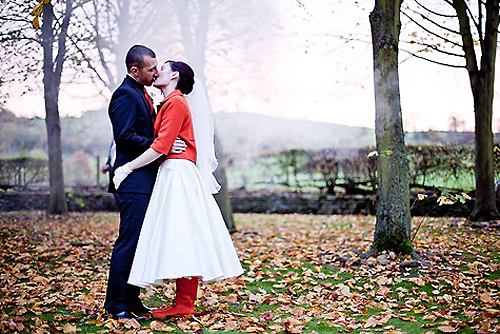 When it comes to bold and contemporary pizazz, look no further than this striking ensemble. While orange and white alone can still pass for rustic chic or soft autumn-like themes, the addition of black accents truly makes this one vibrantly modern colour scheme.
To really make the most of the orange-black combination, plan your wedding around sunset and appoint a photographer that has real skill and experience in silhouette photography. But that's merely the tip of the burning bush of ideas and creativity…
On the orange flower front there are quite a few options to chooses from, however we'd narrow it down to tiger lilies, orange pincushions and hibiscus – flowers that are as bold as the nature of the colour scheme.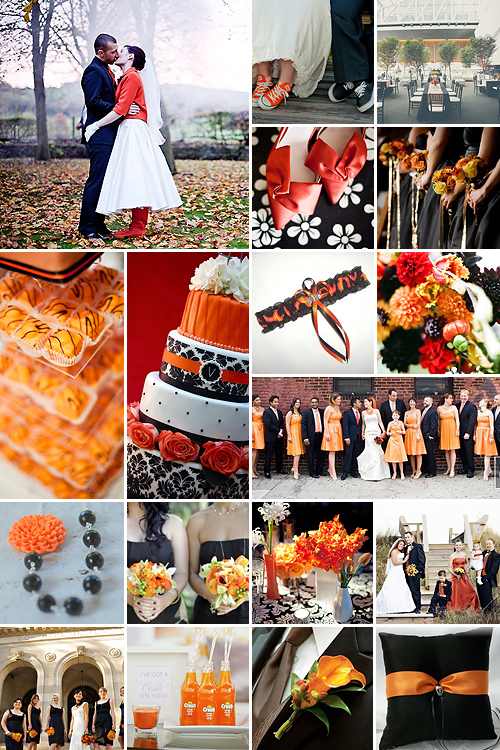 Decorate black wrought iron chandeliers and trellises with orange blossoms and creeper roses.
If the colour combination is a bit too striking for your liking, play around with various shades of orange to create a slightly softer overall effect.
For a fresh, flavourful affair, use plenty of actual fruity and juicy oranges, apricots or peaches in your table decorations.
Instead of the traditional place settings, use little black boards as place mats and write each guest's name directly on his place mat. Also serve canapés on black board trays with the name of each snack written next to it in orange chalk.
Alternatively, place bowls of vintage liquorice and orange sweets 'n treats such as Wilson toffees, candy apricots and Fruitus, on each table.
For a more traditional style wedding, serve biltong, dried peaches and pumpkin tartlets ("pampoenkoekies") with a roaring orange fire to round it off.
Conclude your matrimonial celebration by shooting orange fireworks into the black night sky and awing your guests.
Black is quite a popular accent colour in terms of cake design so do not discount the idea of using black cake fondant or jewellery.
Dress your bridesmaids in orange and grooms men in black pinstriped pants, braces and bow-ties so the two halves of the entourage complement each other without being too matchy-matchy.
For more ideas on Black and Orange Weddings or to check out the original photos displayed above and their credits, make sure to check out our Black and Orange Weddings Pinterest Board!