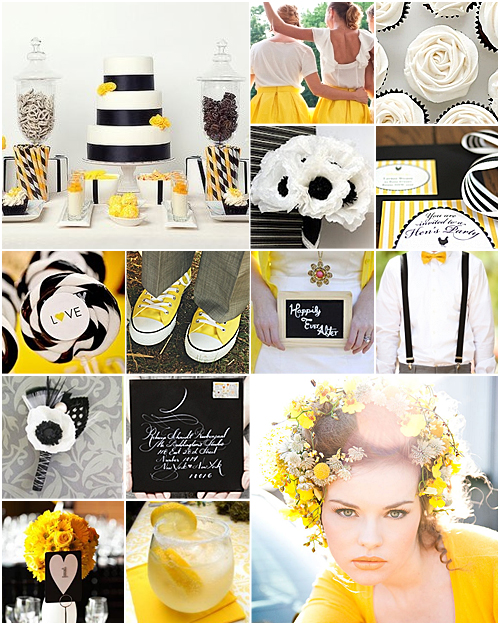 The contrast between black and practically any shade of yellow is striking; providing a feast for the eyes. It is also visually spectacular in wedding photographs. If it is not implemented properly, though, the theme could end up looking more like a swarm of bees amidst the guests.
It is important to pair this colour theme with plenty of white elements (such as the traditional white wedding gown, white groomsmen shirts, table cloths, and so on). This will help the black and yellow to stand out more effectively, while muting it enough to prevent it from becoming overwhelming. Try to keep different elements either predominantly black OR yellow, steering away from the tendency to use stripes.
For some ideas on making a black and yellow colour theme really effective for your wedding day, try these:
Play on the 'bee' look by dressing your flower girl (and ring bearer, if applicable) in hired bee costumes, complete with glittery wings and twirled antennae.
There are plenty of vibrant yellow flowers for use in your bouquet and décor, including sunflowers, roses, daffodils, tulips and lilies. Tie these with a wide black ribbon for a subtle look, or add black feathers into the arrangement for a more dramatic one.
Serve homemade lemonade in glass pitchers on each table. Use a few drops of yellow food colouring to make the colour more vibrant.
Carry black and yellow umbrellas down the aisle, or use them as props for really fun photographs.
Black table cloths with yellow underplates and flowers create a spectacular effect.
Instead of floral centrepieces, put lemons in tall glass cylinders. This is summery, light and very effective.
Original images and their credits available on Pinterest