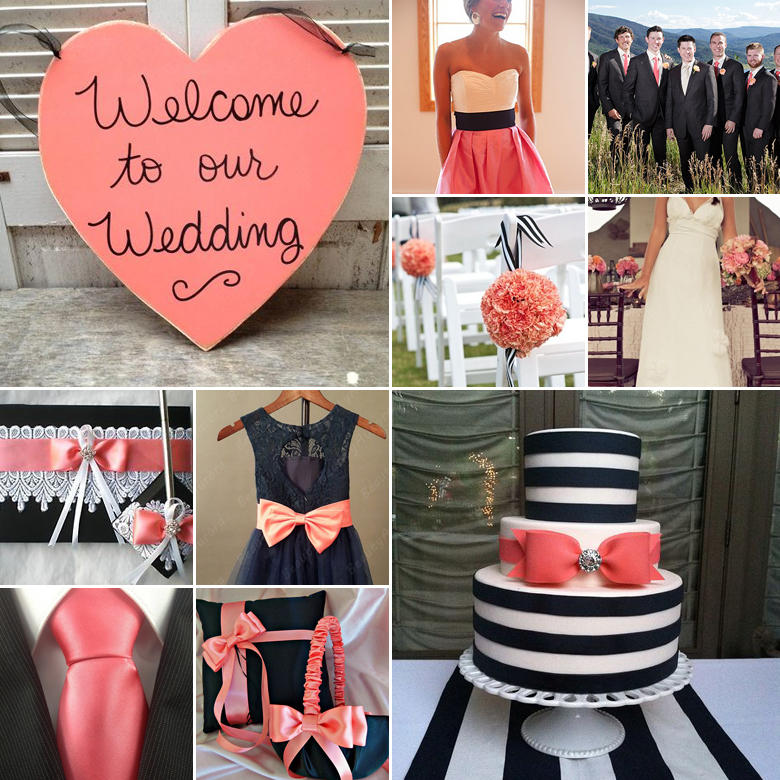 Black and coral is a romantic yet striking combination that combines femininity and masculinity in a way that's dramatic yet sophisticated and sensual. The coral to black ratio will ultimately determine just how dark and dramatic the theme is, and in this way you can easily adapt it for a light day wedding or a grander evening affair.
Opt for a heavy dark chocolate wedding cake decorated with fresh coral flowers or feminine cake jewels.
Choose little black dresses for the bridesmaids, paired with coral shoes and accessories. Alternatively dress the maid of honour in a coral dress with black extras.
Use coral flowers with a soft feminine edge like peonies and roses, combined with stark black arum lilies, or opt for coral ranunculi (known for their "black eye").
Round off the guest tables with coral glassware and striking black touches like Zen stones and black candles.
Bathe the venue in soft coral lighting and decorate the walls with black silhouette vinyl stickers.
Sometimes a simple black ribbon can make all the difference – tied around a coral napkin, coral dress or even coral wedding cake.
Use black boards for the table numbers and menus, and write with coral chalk.
Original images and their credits available on Pinterest