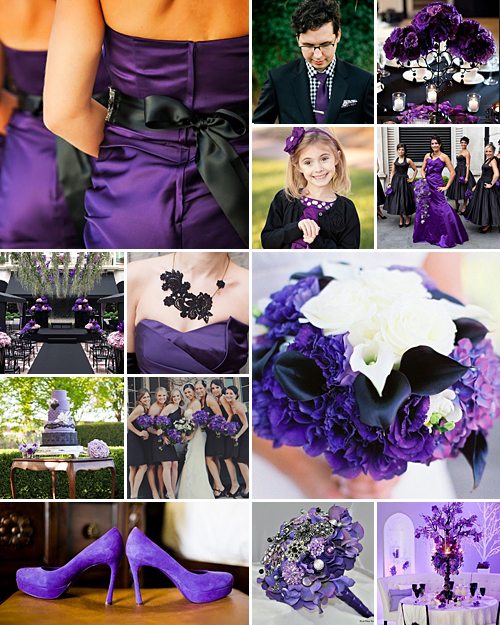 Your wedding day gives you, as a couple, the opportunity to express your unique love and the union in your own style. A major part of making your wedding yours is the selection of a colour scheme that portrays your taste and personality. Black and purple is a dramatic colour combination; one that is rather unusual for an event like your wedding. However, if kept tasteful and stylish, it can be very special.
Choose one of the colours as a main colour so that they are not competing for coverage, so to speak. This will make the theme more effective and will maintain its elegance. Black is the obvious choice as the base colour, since it is more neutral than the purple and is likely to be easier to source. Then, use purple accessories, patterns and features on the black to complete the look. To make the colour theme softer and more feminine, use swirls, floral designs or butterflies in your colours scheme. These look fabulously dramatic in purple and black, but keep the theme romantic.
Here are some more ideas on how to implement the black and purple theme in your wedding:
Keep your black and / or purple bridesmaids' dresses short (knee length) so that these colours do not overwhelm the viewer in the procession or the wedding photographs.
Sprinkle purple petals or feathers on either side of the aisle or around your dance floor for a fairytale ambience.
Opt for a bouquet of dyed black and purple ostrich feathers for a very special touch.
Purple flowers include freesias, gladioli, sweet pea, iris, lisianthus, tulips, lilies, the Vanda orchid, impatiens and roses. Bind these together tightly with a black ribbon or tape for a stunning purple and black arrangement.
If you feel that there is not enough purple in your theme, consider using purple lighting to bring this hue into the venue effectively.
Include black bowls of purple granadillas or eggplants (brinjals) as table centrepieces.
Only have a purple or black wedding gown if you are prepared to make a statement – both to your guests on the day as well as in your photographs, which will last a lifetime.
Original images and their credits available on Pinterest