Black, White and Gold Stripes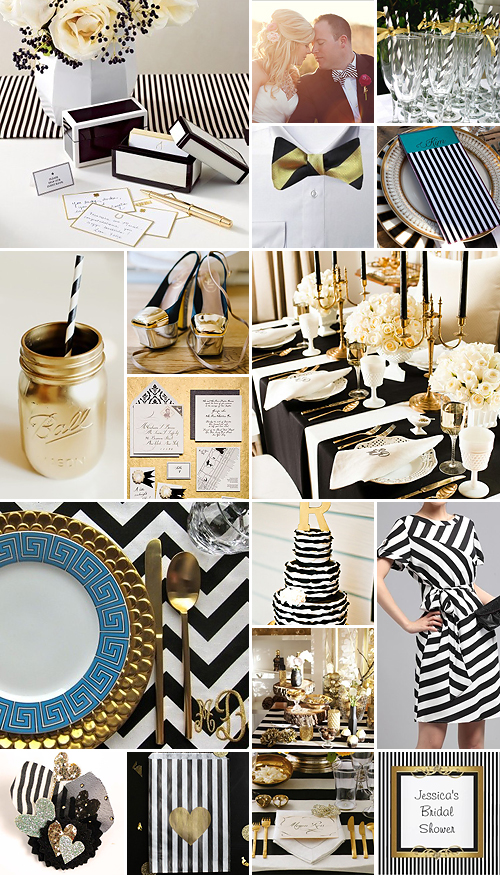 Stripes are the epitome of contemporary style and when implemented correctly, can redefine wedding décor as a whole. When it's black, white and gold we're talking about, the contemporary character is undeniable. We also love the hint of Africa that shimmers through in black and white stripes, and the touch of gold has a way of adding a slight diva factor to the affair.
The important thing is not to go overboard with stripes as this might leave guests feeling a bit woozy. Here are a few ideas for playing with stripes:
Have some fun with gold, black and white ribbon; decorate the ceiling of the venue, the wedding stationery and use it to cordon off certain areas, like the dessert table.
Provide guests with streamers in the aforementioned colours to toss over your heads as you exit the ceremony venue.
Decorate each guest table with a number of long candles in your chosen colours, arranged down the middle of the table.
Cover the tables in white table cloths and alternate between black and gold table runners.
Wrap black and gold ribbon around each layer of a clean white wedding cake to create the illusion of stripes.
For a more dramatic and contemporary affair, paint vertical black, white and gold stripes on one wall to create a striking focus wall. This can even serve as backdrop for the photo booth.
Instead of ordinary glass and crystalware, opt for a glass with a smooth gold rim and tie a black or white ribbon around the stem.
Serve a contemporary dessert such as a carefully layered white and dark chocolate mousse cake with gold glitter on top.
Dress the groom and grooms men in black shirts with narrow white stripes, and the bridesmaids in black dresses with white or gold sashes.
Jazz up your own with bridal ensemble with a black waistband and gold hair ribbon.
For more ideas on Black, White and Gold Stripes or to check out the original photos displayed above and their credits, make sure to check out our Black, White and Gold Stripes Pinterest Board!