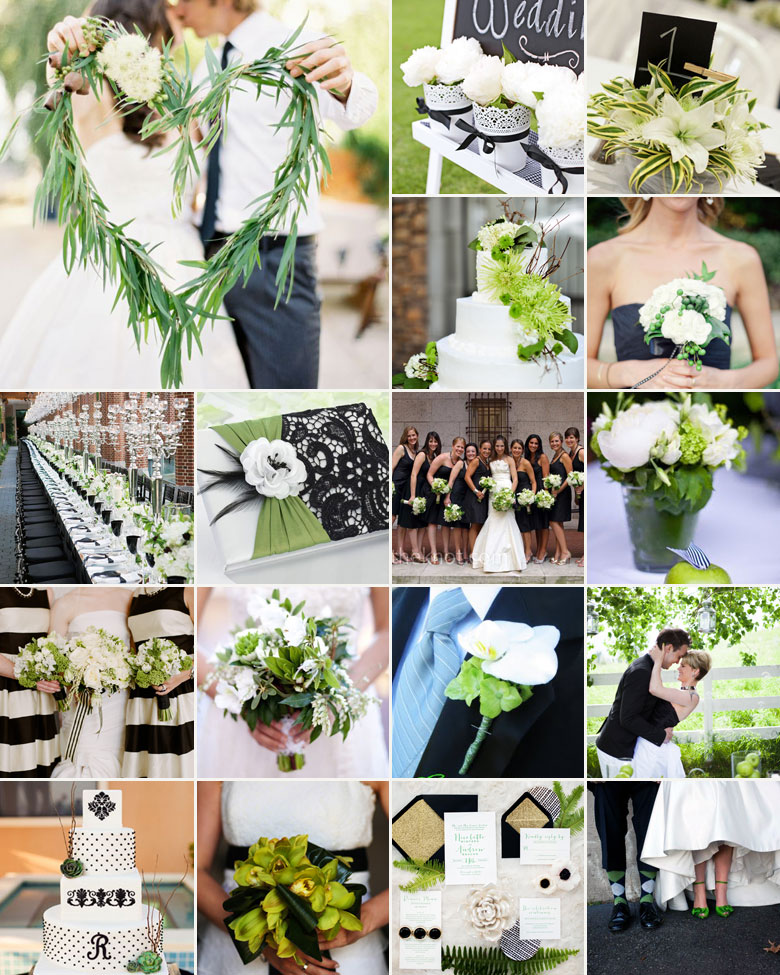 Black and white, as a colour combination, is formal and dramatic, creating an elegant look for almost any occasion. Adding a splash of green conveys the idea of life, renewal and character. While any shade of green works well with both black and white, apple green and lime green certainly convey a pizzazz and an element of quirky fun.
Green is often used to represent life and nature. Therefore, this is a great colour combination for outdoor weddings and couples that are keen outdoor enthusiasts. The black and white ensures that even an outdoor wedding is still very elegant and chic.
The black and white elements of your décor should be accessible and affordable, as it is unlikely that they will need to be custom-made (table cloths and napkins, for example, are usually available in a range of standard colours, including black and white). This makes the black, white and green colour theme ultra-easy to achieve.
Here are some ways to implements your black, white and green colour scheme effectively:
Alternate black and white tablecloths. Then, use white and black (respectively) décor elements (like centred organza ruffles, table runners, placemats, etc…)
Keep your green elements to a minimum so that they stand out and are not lost.
Use fresh limes and Granny Smith apples as place setting holders (cutting a slit in them and inserting the name card). Alternatively, place these fruits in large glass columns in the centres of the tables for dramatic centrepieces.
Instead of carrying a floral bouquet down the aisle, opt for a generous arrangement of black ostrich feathers with two or three green ones as accents.
Keep the wedding gown white and bring out the rest of the colour scheme in the attire of your entourage. For example, have the bridesmaids in elegant black floor-length strapless dresses, and the flower girl and ring bearer in cute green outfits.
Original images and their credits available on Pinterest