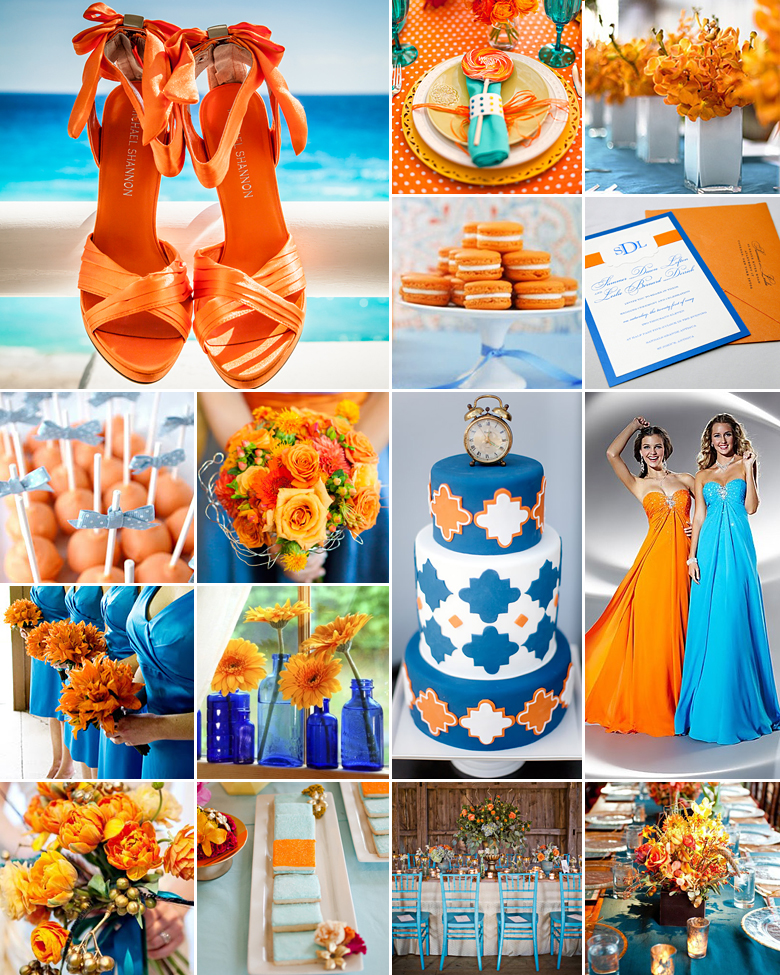 The combination of orange and blue conjures up images of the bright orange sun setting on the horizon, casting its warm glow onto the dark blue waters before descending completely. This is a vibrant combination that is flexible and fun. For a more informal, funky setting, opt for turquoise and bright orange, while formal themes may demand a darker shade of blue. In fact, all shades of blue work well with an intense, bold orange, so be adventurous.
It is important to use these colours sparingly in order to make the most impact. Keeping the majority of your décor white or neutral will ensure that your blue and orange elements jump out more effectively.
Orange is a very natural colour, occurring often in the world outside. Blue, on the other hand (particularly navy and turquoise) is not often found in the fauna and flora. This gives you the freedom to play around with natural and man-made elements, combining them effectively. You could choose to keep your natural elements (such as your flowers) orange, while your other décor items (such as table runners) are blue, for example.
Here are some more ideas for implementing your blue and orange wedding theme:
Use orange coloured citrus fruits in your décor as place settings, arrangements in the table centres or as part of your floral bouquets.
As the bride, you might incorporate orange or blue (preferably not both unless it is very subtle) in your fascinator, a pashmina, your shoes or the lace-up criss-cross on the back of your dress.
Keep the groom and groomsmen attire simple by adding a striped blue and orange tie or waistcoat to the traditional black suit.
Have sweet blue or orange shoes peeking out from under your white gown.
On a table setting that is completely white, add blue stained glasses and vibrant orange blooms.
Slice oranges and put these around the inside of your glass vases, pressing them up against the glass. This just adds to the colour scheme in a different, fun way.
Original images and their credits available on Pinterest