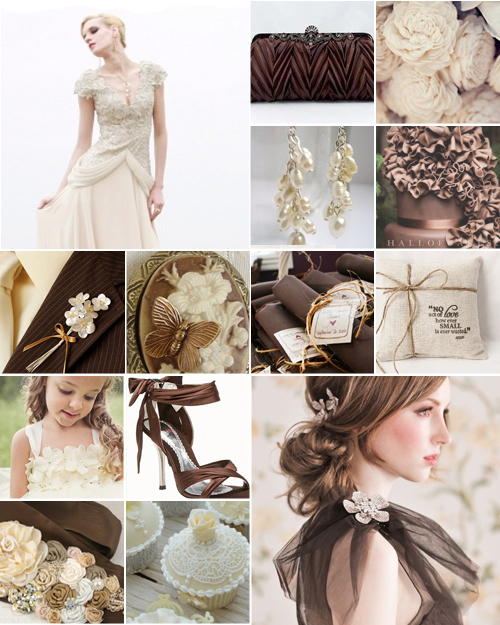 Colour combinations can be effective whether they occur naturally in the world around us, or are crafted to suit our particular tastes. Brown and cream is a soothing, elegant combination that works well within vintage and rustic settings. It smacks of chocolate and rich flavoured creams; the ideal flavours to make your wedding day even more special.
Perfect your brown and cream wedding theme with these ideas:
Chocolate brown suits on the groom and groomsmen will look ultra-elegant when paired with an ivory wedding gown.
Use slightly sparkly cream (resembling an extremely light shade of gold) in certain aspects of your attire and décor for a more glamorous look and feel.
Accessorise with cream and brown pearls for a classically vintage look.
If your skin tone allows, keep your make-up to creams, gold and browns.
Serve iced coffee with cream as welcome drinks or dessert.
Use cream-coloured flowers (such as off-white roses) with wooden twigs interspersed among them. If you can source brown autumn leaves, these will also create a charming bouquet amongst flowers.
A white or ivory dress will be perfectly offset by dark bronze jewellery and a tiara, as well as a pair of gorgeous brown or coffee-coloured shoes (whether make from trendy leather, rich velvet, pretty satin or tweed) underneath.
Swop a traditional white wedding cake for a rich chocolate brown one with white chocolate details swirled across it.
Serve chocolate cake or brownies with an Amarula cream for a rich, divine dessert.
Truffles of brown and white chocolate will make pretty guest gifts in a beautiful box.
Original images and their credits available on Pinterest