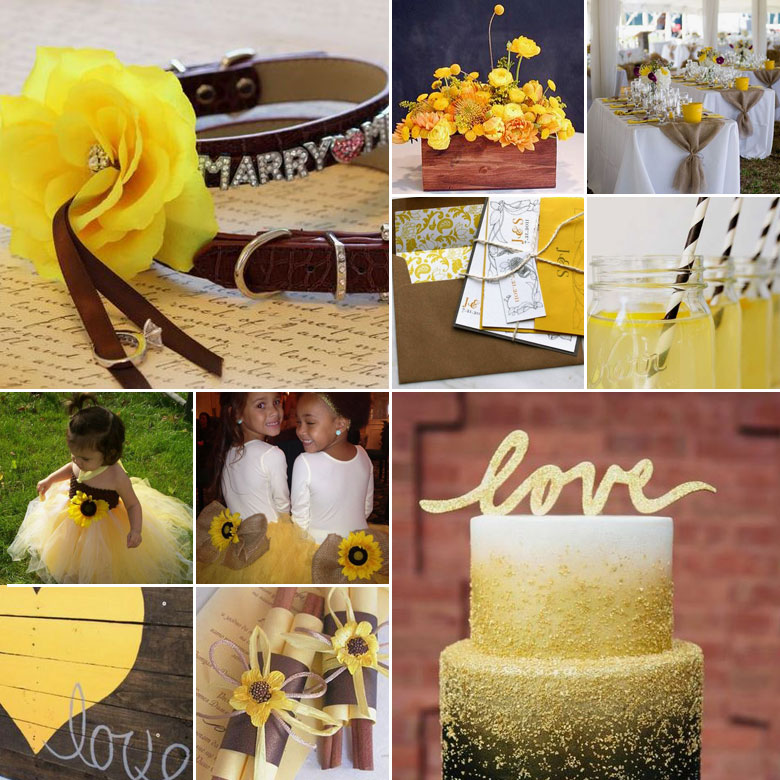 You've got quite the sweet tooth – if it's not chocolate or toffee you're after, it's custard! Brown and yellow is a dream colour combination for the wedding day, striking the perfect balance between neutral and bright.
If you're planning a more formal or wintry affair, use brown as your more dominant colour, and if it's a bright and sunny occasion, then naturally it's yellow for the win!
Serve banoffee tart for dessert, of a chocolate fountain with all kinds of yellow delights like macaroons, petit fours, pineapple chunks and so forth.
For a more rustic affair, keep an eye out for a wooden lodge or barn style wedding venue, and adorn it with yellow pops of colour.
Play around with different shades of brown – ganache brown for more drama, and light burlap for a country wedding.
Dress your bridesmaids in striking chocolate brown dresses – only yellow if they agree to it.
The groom and groomsmen on the other hand, will look all too dashing in brown vintage suits.
When it comes for flowers, you have so many to choose from! Think daffodils, lilies, roses, daisies and sunflowers.
For budget friendly décor, use plenty of wooden sticks and branches instead of flower decorations.
Original images and their credits available on Pinterest