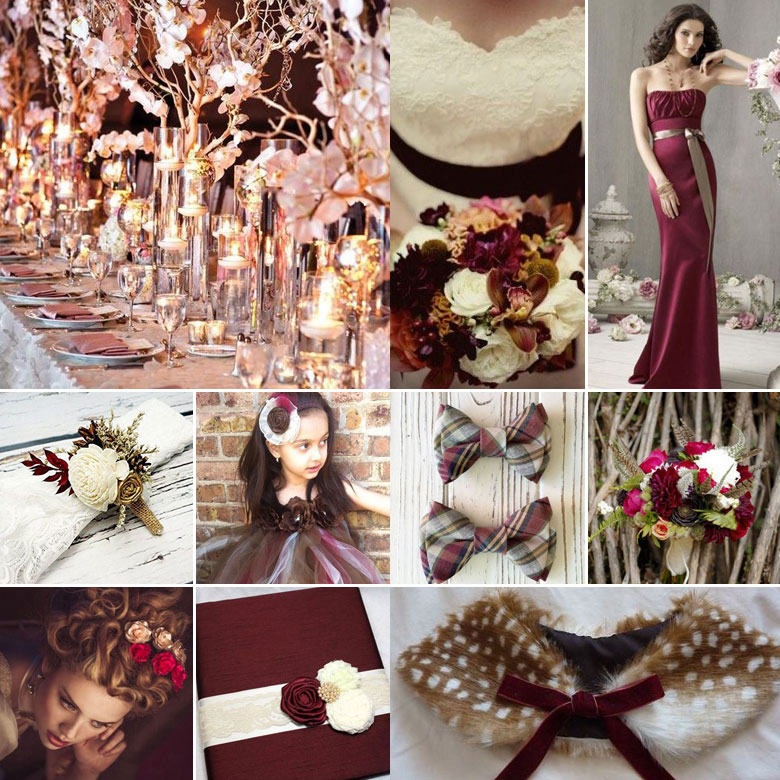 Alluring, elegant and incredibly striking – this colour scheme is one of a kind, and you simply can't go wrong with the magical combination that is burgundy, ivory and brown. Doesn't it just remind you of decadent chocolate cake covered it dollops of cream and cherries? Well, this colour scheme is just as decadent, that's for sure!
Dress the groomsmen in shades of burgundy and grown, perhaps with ivory waistcoats or shirts to round it off.
Instead of a traditional white wedding gown, opt for an ivory gown with hints of burgundy and brown for added drama.
For confetti, mix up burgundy and ivory rose petals, and add in a handful of dried brown autumn leaves to complete the picture.
Deck the guest tables in brown and burgundy table cloths, and let the crockery represent the ivory side of things.
Add small touches of gold or silver, just to give it that extra bit of sparkle.
Make use of flowing fabrics like chiffon and netting to enhance the indulgent nature of the colour scheme.
A dessert table is an absolute must! Be sure to include a tall dark chocolate fountain with plenty of cherries and strawberries to dip.
Original images and their credits available on Pinterest