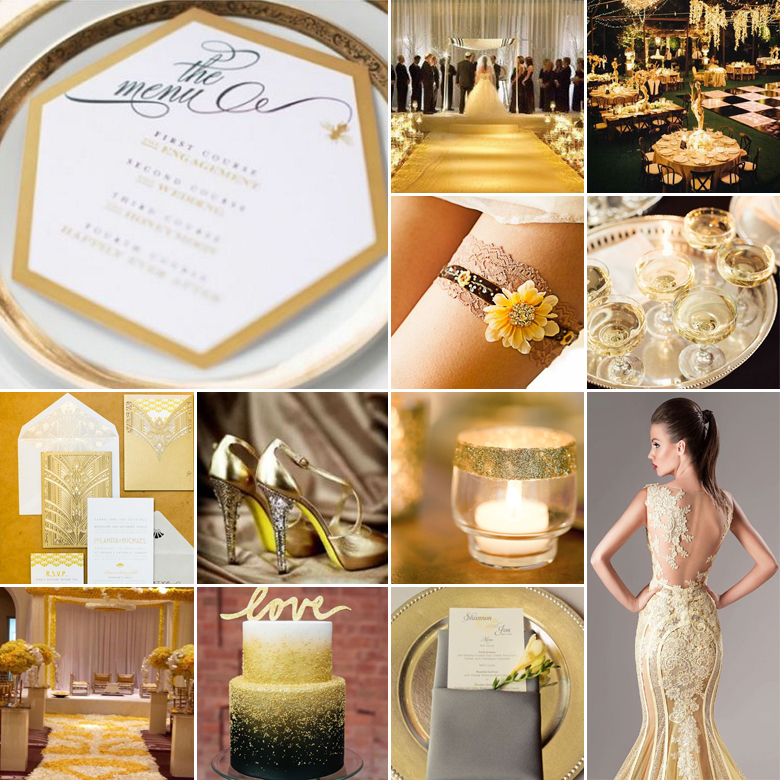 Elegant, stylish, opulent and a little playful – that's how you could summarise this deliciously divine colour scheme. Yellow and white have long since been a favourite colour scheme among brides. The addition of gold however elevates this combination to a whole new level of sophistication.
When applying this colour scheme, don't be afraid to go all out – don't hold back! Think opulent gold candelabra, butter yellow table cloths, gold draping and lighting, and more. Here are some more ideas:
Wrap light yellow treats and candies in golden wrapping paper, as a little spoil for your guests.
Decorate the table with light yellow flowers, and opt for gold under plates and gold rimmed glasses.
Scatter a mixture of gold sequins and yellow rose petals down the middle of the guest tables, and also use it as confetti.
Set up a photo booth with a gold sequinned backdrop, and light yellow props like feather boas and hats.
Complete your bridal ensemble with gold accessories and a pair of sparkly shoes, and choose light yellow dresses for your bridesmaids.
Fill the dessert table with light yellowy treats like lemon meringue pie, buttery pastry treats, and more.
Original images and their credits available on Pinterest