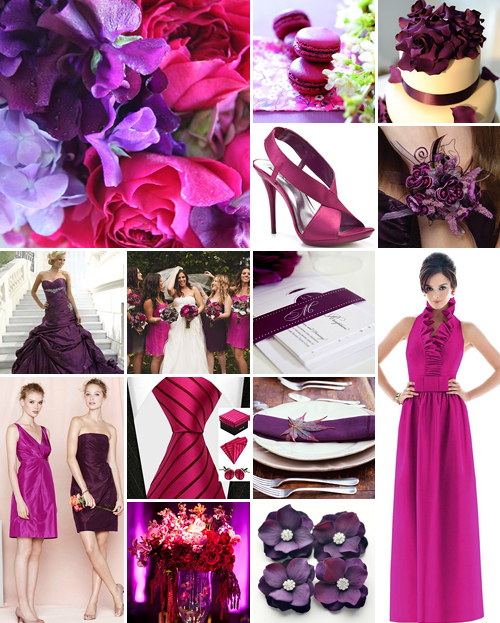 The hot colour combo of cerise pink and grape is romantic, stylish and sassy. Because of the drama of both of these colours, they do not come across as being overly feminine, which may be a consolation to your groom and groomsmen, who also want to feel and look good on this special day. However, if you think they may not want to be adorned in cerise, keep their suits black and accessories with grape additions.
To achieve a fair balance of these two shades without them becoming overwhelming, you could opt to have the girls in your entourage donning hot pink, while the men stick to grape. Alternatively, dress everyone in grape and bring your cerise in with vibrant hot pink bouquets. Play around with the theme until you are entirely happy with the balance that you can achieve.
Here are some more ideas for your cerise pink and grape wedding theme:
Serve rich grape-coloured red wine as welcoming drinks, or blend port with lemonade for a hot pink, tasty refresher.
Use small clusters of purple grapes as your boutonnieres and include them in your floral bouquets.
Gorgeous cerise-coloured flowers include gerberas, roses, gladioli, primulas, freesias, Lillium Stargazers and tulips.
Use the hot-pink prickly pear syrup to garnish your dessert plates and as a stunning swirl in your cocktails.
For more ideas on a Cerise Pink and Grape colour combination or to check out the original photos displayed above and their credits, make sure to check out our Cerise Pink and Grape Pinterest board!