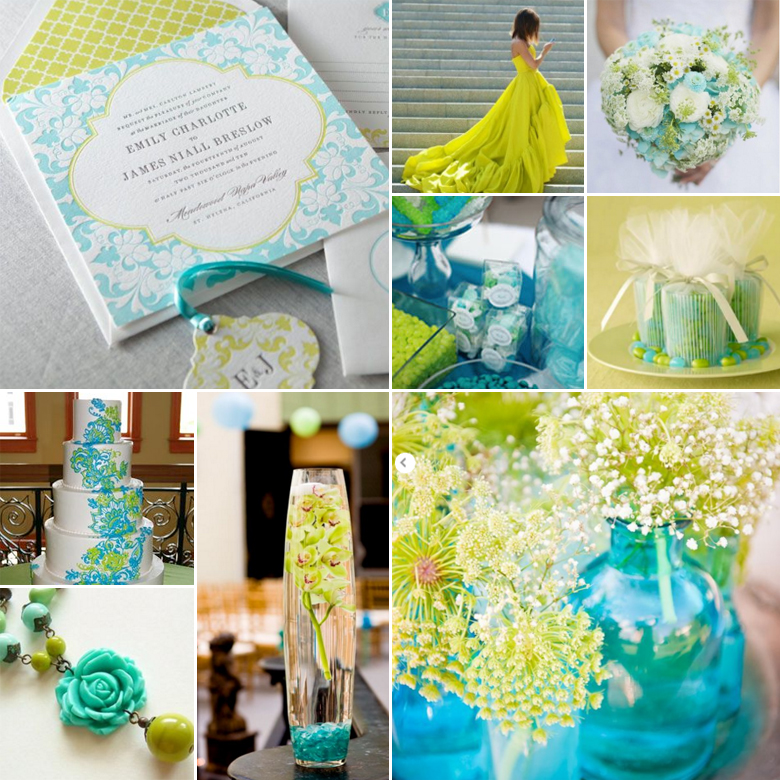 Now this is a colour scheme that will certainly get you excited for summer! With its soft and cool undertones, it's incredibly refreshing and pleasing on the eye, and counters the heat pressing down on your guests.
Chartreuse is a colour that's halfway between yellow and green. It was named because of its resemblance to the green colour of one of the French liqueurs called green chartreuse, introduced in 1764.
Instead of adding too much colour, use plenty of white as your foundation and add small pops of chartreuse and aqua where it matters:
Play around with chartreuse and aqua crockery elements like stacked plates and coffee mugs.
Bathe the venue in chartreuse lighting, changing to blue when the mood needs to change to a more serious one.
Add cornflowers and aqua daisies to your bouquets and table arrangements, along with light green foliage and even vegetables like artichokes and cabbages.
For a real colour splash, keep all your elements white and simply decorate the ceiling with a mishmash of aqua and chatreuse Chinese lanterns.
Add pops of colour to your wedding ensemble with a statement colour necklace or shoes.
Original images and their credits available on Pinterest