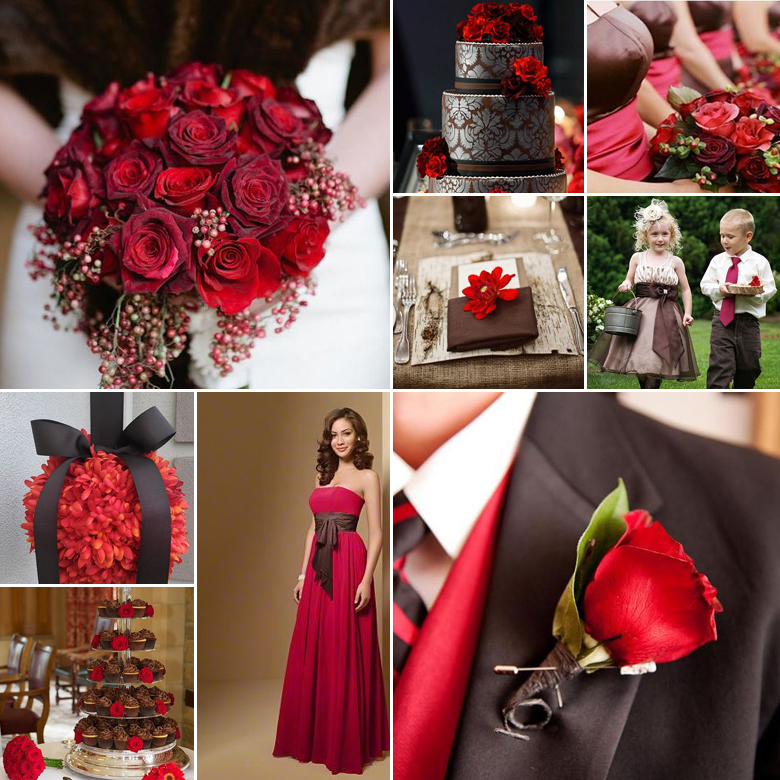 Tasty, indulgent and flavourful – that's cherry and mocha for you, regardless of whether you're talking about the flavour or the colour scheme.
This divine theme is everything you could possibly ask for in a deeply romantic and sexy wedding celebration – the colours are beautifully complementary, and the flavours are to die for. We especially love the contrast of a crisp white wedding gown against these deep tones – you're guaranteed to stand out!
Instruct your wedding cake designer to create the ultimate cherry and mocha cake masterpiece.
Dress your bridesmaids in alternating dresses – some in dark brown, and some in cherry.
Drape the tables in mocha table cloths, and opt for cherry-coloured glassware or crockery.
Instead of a traditional black suit, convince your hubby-to-be to try on a dark mocha suit – it's classic and unforgettable.
Add touches of cherry to your own bridal ensemble by donning red nail polish and cherry lips.
Treat your guests to a cherry or mocha cocktail or exceptional coffee during canapés.
For the guest favours, fill little baskets with fresh cherries, or spoil your guests with little bags of your favourite coffee beans.
To keep the theme from getting too intense, add splashes of cream – just as indulgent, just as rich.
Original images and their credits available on Pinterest