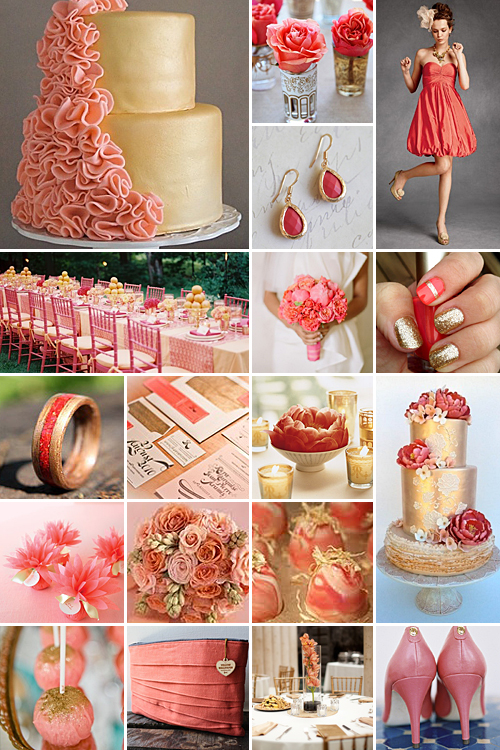 You're a happy and vibrant spirit who loves opulence, grandeur, quality and style – darling, this colour scheme is all you! Coral and gold has the same sophisticated and elegant allure of peach and gold, however this theme is a step up on the boldness scale, hence its somewhat more dramatic and lavish appeal.
What we truly heart about this particular colour scheme, is its luxurious sense of warmth and the way it instantly envelopes you in an ambiance of regal comfort. While not as brash as orange, coral has the same vibrant energy and with winter coming up, it really is a splendid winter-warmer colour scheme.  Sadly, this is not the ideal colour combination for the beautiful red heads out there but, golden blondes or chocolate brunettes – listen up!
Jazz up your pearly white bridal ensemble with gold statement pieces, a coral bouquet, nail polish and perhaps a pair of coral platforms if you're up for it.
Don't be afraid to be heavy handed with the gold – opulence is bliss! Opt for gold painted chairs, golden chandeliers and even a splash of golden fabric on the walls or tables.
This season we're all about the glitter bomb! And when the colour scheme already speaks of drama and lavishness, a sprinkle of gold glitter over the dance floor is a must.
Break out a combination of gold and coral coloured bubbly and toast the new marriage with swanky gold-rimmed wine glasses.
Be a little daring and, if they're keen, dress your bridesmaids in gold sequinned mini dresses!
To further complement the colour scheme, use plenty of cream and champagne coloured linens as your base as this reflects the warmth of the colour scheme better than crisp white would.
Decorate your cake with plenty of fresh coral flowers, golden cake jewellery and a light dusting of gold cake glitter.
Consider lining the aisle with a coral carpet and bathing the venue in coral and gold lighting.
For more Coral and Gold Wedding Ideas, the original photos and their credits above, make sure to check out our Coral and Gold Pinterest Board!