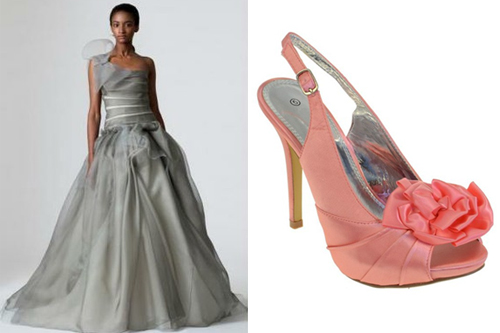 Bravo Bride | Budget Wedding Ideas
Coral and grey creates a colour combo that is minimalistic yet striking. If understated elegance is your style, you can't go wrong with these colours. This combination works well with a vintage or modern theme.
For a striking look and feel, here are some tips:
Use white or gray as your neutral colour, adding touches of coral in the details.
Coral flowers that will work well include roses, peonies and geraniums. You could stick with white flowers for your centrepieces and add coral ribbons or containers.
Coral pink macaroons in stylish little boxes are the perfect wedding favours for this theme.
Coral pumps paired with a white dress are a must!
Your bridesmaids will look stunning in coral pink dresses. Keep the material soft and light.
Be sure to visit antique shops for vintage jewellery. A coral necklace or bracelet will look stunning against a white dress.
Dress the groom and his groomsmen in grey. You could add a coral tie or boutonniere.
Because coral and grey are such striking colours, keep your cake plain and classic, with not too many twirls and frills.
Have fun with this stunning combo and visit us on Pinterest for more great ideas!