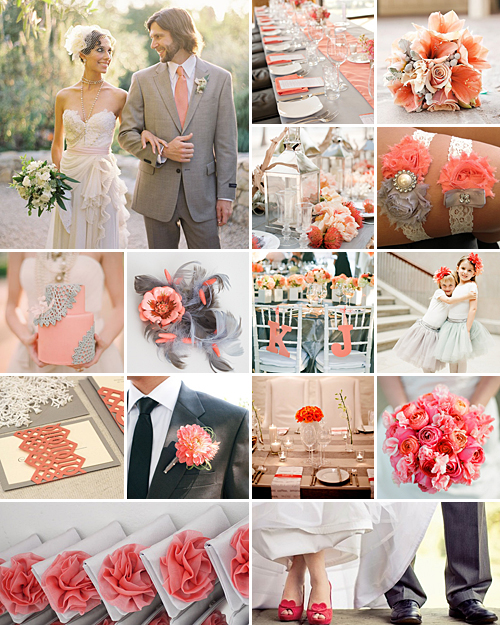 Lying somewhere between pink and peach on the colour wheel, coral embraces the best of both these colours to bring you what we imagine the colour of pure bliss would look like. Combined with grey – definitely one of our favourite neutrals of the season – it makes for one mesmerising colour scheme that can be applied to either a soft contemporary or vintage occasion.
Coral and grey is another one of those "boy meets girl" colour schemes where the gents can don their fancy grey suits while the girls strut their stuff in fun feminine coral. What's more, this colour scheme is appropriate for winter and summer weddings, as it brings both warmth and cool sophistication to the table.
When choosing your elements, it's best not to go overboard with the coral – keep it light and easy on the eye, and pair it with plenty of white and grey. Speaking of the grey, do feel free to play around with various shades of this understated colour – from heavy charcoal for a more striking look and feel, to dove-grey for a softer more feminine appeal.
Flowers that fit right in with this colour scheme include coral peonies, roses, hibiscus, orchids, gerberas, dahlias and carnations to name but a few favourites. In terms of grey, you cannot go wrong with foliage such as olive branches and dusty millers, both of which are ideal vase fillers.
Original images and their credits available on Pinterest.