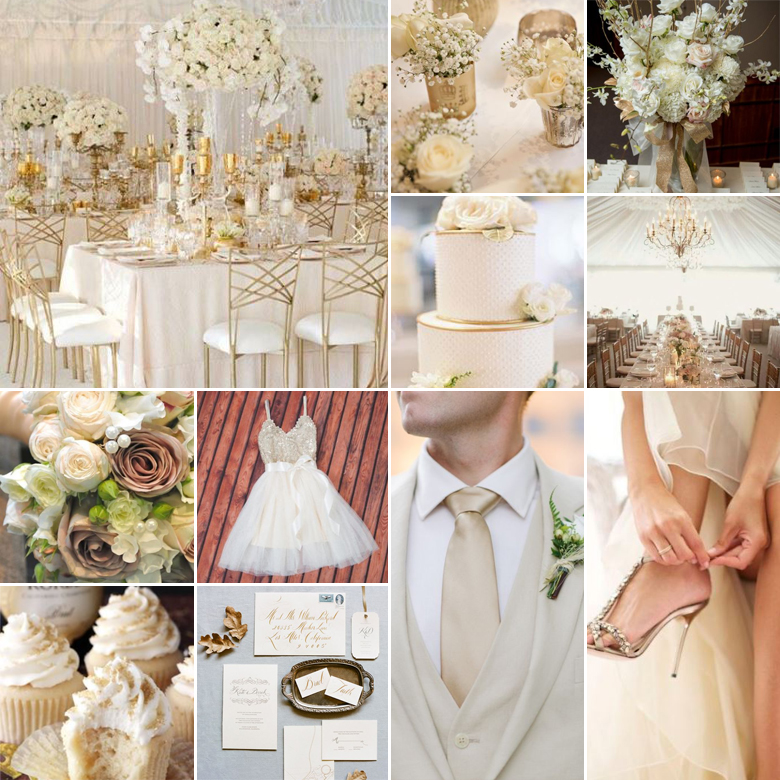 If you've always been a fan of white on white, then perhaps this contemporary take on an old favourite will catch your eye! Unlike white on white, this colour scheme has an element of warmth to it that's perfectly suited to an elegant and sophisticated affair.
What's more, the cream and touches of gold adds depth to an otherwise light and plain colour scheme. Think layers and swirls of cream, and use that as method inspiration for your décor. The idea is also to play around with plenty of textures, so do add ruffles and pleats for a more opulent look.
Create layers on the guest tables, with white plates on gold under plates on cream tablecloths.
Instead of a crisp white wedding gown, opt for a cream dress or a combination of the two.
Bring the colour scheme to the dessert table with plenty of cream-topped delights and gold edible glitter.
If you're having a morning wedding, dress groom and groomsmen in cream or white tuxedo jackets.
Choose dresses of different cream and white shades for the bridesmaids.
Don't be afraid to add plenty of gold for a more dazzling affair – think gold chairs, table runners and bridesmaid dresses.
Original images and their credits available on Pinterest