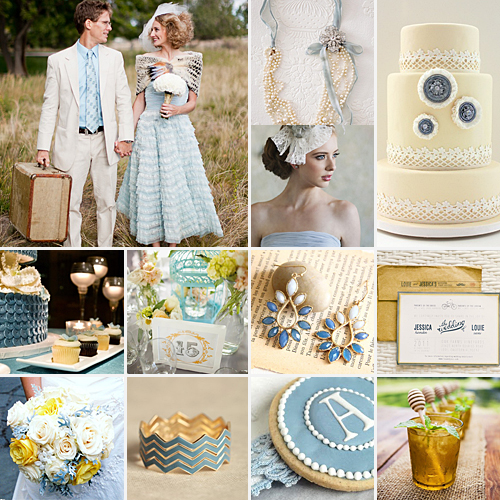 The combination of blue and yellow made its mark on the fashion and décor world in the 90's (remember those sunflowers on sweet blue gingham backdrops?), and then seemed to die out as fast as the sunflowers withered away. A modern take on this classic combo is a dusty, dull blue (similar to the colour of the crystal, called beryl) paired with a rich, golden-yellow honey colour, set on a neutral background of stone.
This colour combination just oozes elegance, simplicity and a laid-back appreciation of the good things in life. The neutrality of the stone ensures that the blue and yellow don't get the opportunity to fight for dominance. Rather, the slightly grey undertones of the stone colour will enhance the golden glam of the honey.
Use the stone colour in your attire by getting all of the groomsmen to don elegant stone-coloured suits. This is especially effective for a beach or garden wedding. However, the blue and honey give this combination enough elegance to suit just about any wedding theme. With this gorgeous colour combo, your wedding is sure to be exquisite and memorable.
For more Dusty Blue, Stone and Honey wedding ideas, the original photos above and their credits, please make sure to check out our Dusty Blue, Stone and Honey Pinterest Board!