Ebony + Turquoise + Gold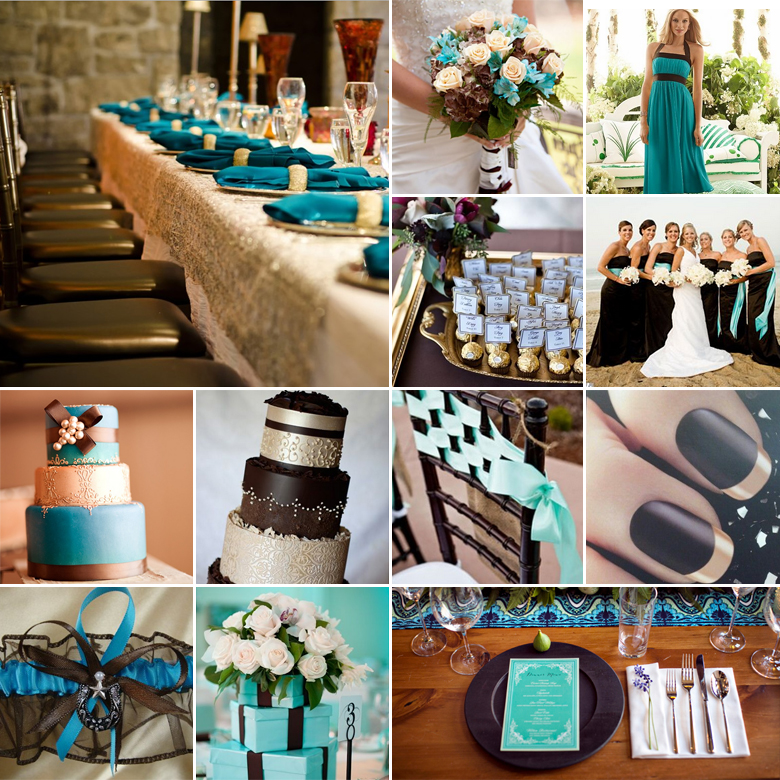 Ebony and turquoise are two striking colours that seem to complement each other so beautifully, and the contrast between them is just so dramatic and mesmerising. With fine and delicate gold details to complete the picture, the colour scheme takes on an almost oriental feel.
Here are a couple of ways to combine the colours with flair:
Instead of ebony coloured items, opt for dark wooden elements like napkin rings, chairs and tables to give the theme a rich undertone.
Dress the bridesmaids in delicate gold and turquoise dresses, and choose dark brown suits for the groomsmen.
Draw the theme to the dessert table with tall vases filled with blue cocktails, dark chocolate truffles and gold foil wrapped delights.
Bathe the venue in turquoise and gold lighting, and keep an eye open for a venue with dark wood floors or pillars.
Opt for dark wood tables adorned with turquoise crockery or glassware and gold vases and cutlery.
In terms of flowers, turquoise hydrangeas and blue bells are perfect, paired with dark wooden branches.
A dark chocolate wedding cake is an absolute must, with gold dusting and turquoise floral cake topper.
Original images and their credits available on Pinterest